Pilates Suits Just About Everyone
|
By Nancy Hawkins Rigg, Founder and Owner, Forever Fit Foundation

You've seen the infomercials for the Pilates equipment promising 30 days to a better body. Of course, the chick demonstrating that intimidating apparatus is already a swimsuit model. What do you do? Flip the channel and figure Pilates is only for the young and the very fit? Think again.  A Pilates DVD or home equipment may set you up for frustration or failure.  But there are other options.  Believe it or not, Pilates practiced with the guidance of a skilled trainer can be adapted to suit just about every body,  from those who need therapeutic exercises to the elite athlete looking for improved performance. Think of it this way: you have to start somewhere.
Pilates is so much more than the quick exercise you saw on TV; it's a total body conditioning system based upon exercises that start from the core to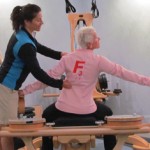 develop strength and flexibility. One of the best things about Pilates is that you develop a mind-body connection because in order to perform these exercises you must concentrate. That's a good thing! Pilates also improves balance, flexibility and strength. Basically, Pilates can be adapted for anyone, but you won't get that from a DVD. That's where a personal trainer becomes a valuable resource.
Be sure to select your personal trainer with care. Although a person may know how to artfully execute Pilates exercises, she may not have the skills to assess your needs, your strengths and your weaknesses and put you on the path to success.
After all, you want the time you spend practicing Pilates to be rewarding both physically and mentally. You don't want to develop new injuries, and while you welcome a challenge you will also want to leave the session feeling a sense of accomplishment. Above all, you want to come back and do more Pilates.
History of Pilates
Pilates has an interesting history, one associated with the New York City ballet community. Joseph Pilates was born in Germany. During World War I, he became a prisoner of war in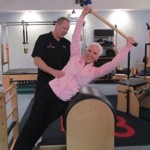 British camp where he started working to help non-ambulatory men. He used the bed springs and pulleys along with a series of exercises he devised to help them recovery. Look around at the apparatus in a Pilates studio and you can certainly see contemporary versions of Pilates apparatus. He immigrated to the United States where he opened the first Pilates studio which catered primarily to the dance community, including the famed Martha Graham and George Balanchine.
Part of his legacy was also a book that included his original exercises to help readers develop strength, balance, control and flexibility.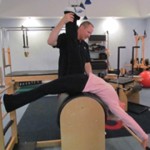 Getting down to business
What can you expect when you work on Pilates with a personal trainer? Fast forward past the initial interview and the evaluation.  Your trainer is ready to work with you. Pilates exercises can be executed both on a mat and on special apparatus, and they can be taught in groups or classes, or one-on-one.
Let's talk about personalized, individual training sessions because that's a great way to get started. First, you and your trainer will set some goals, keeping in mind that achieving them will more than likely include breaking some bad habits you may have developed over the years. Pilates is an exercise option for everyone, including people who want to lose weight, yearn to be more flexible and have more toned muscles.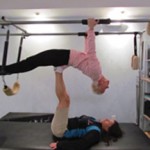 Beginners will be coached in body awareness and breathing techniques as they learn a few basic moves. As with anything else you do, practice may not lead to perfection, but it will certainly yield noticeable benefits. At the start of a Pilates program, a skilled trainer may teach some movements on the apparatus while during the same session others will be performed on the mat. Joseph Pilates recommended training frequently, three to four times a week, with 30 minutes per session. Arrive with a positive, can-do attitude and a commitment to the practice. Remember that persistence and patience will pay off. Practicing Pilates is a way of life.  Setting and achieving short-term goals will be rewarding. You will wonder why you were ever intimidated by those infomercials. Once you become comfortable with a few basic movements, your personal trainer will create more challenges for you. The options are infinite, and so are the possibilities.
Nancy Hawkins Riggs is the founder and owner of Forever Fit Foundation, a personal training business specializing in Pilates, Gyrotonic, Gyrokinesis, Yamuna Body Rolling and sport specific training. Forever Fit Foundation accepts clients at three sites: Dover and Lewes, Del., and Mendenhall Station, Pa., just over the Delaware line. A certified athletic trainer, she earned her bachelors degree fro the University of Delaware and her master's degree in exercise science and sports medicine from Miami University in Ohio. Please call (302) 423-1816 or (302) 698-5201 to schedule an appointment for more information.