Pilates Offers Resistance Training: No Bulky Results. Use It Or Lose It!
|

By: Nancy Hawkins Rigg
Founder and owner,
Forever Fit Foundation
As women age, many learn there's no better way to use it and improve it than resistance training.
Pilates is a safe exercise that can help combat many of the negative effects of aging. Resistance training includes activities that use weights, machines, resistance bands or even body weight to work your muscles properly. When the equipment is used, the muscles of the body will be pitted against the resistance. The cells of the body will then adapt to the extra resistance, enlarging and increasing the strength of each muscle cell to help the muscle perform contractions more efficiently.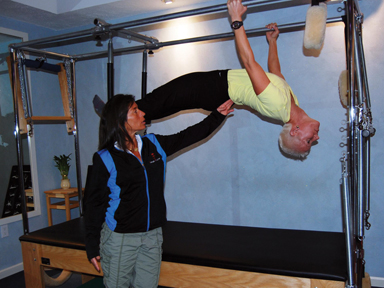 Pilates is one of the best ways to do resistance training.
The exercise system designed by Joseph Pilates in the early 20th century offers resistance training without using heavy weights. Pilates was developed by German-born Joseph Pilates in the 1920s during his World War I internment in England. To encourage fitness in his fellow internees, Pilates fashioned resistance training equipment from bed springs and parts. After the war, Pilates immigrated to the United States and continued to develop the method in the same building as the New York City Ballet.
How can that be? Under the watchful eye of a trained professional Pilates instructor, a client performs a series of exercises that artfully require movement against the resistance of springs.
The equipment was designed so that the instructor guides the student,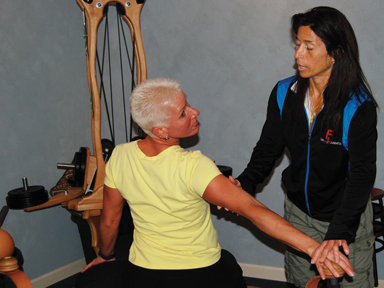 one-on-one, through a series of movements, isolating specific areas of the body. This aspect of Pilates is especially useful when a client may need rehabilitation from injury or surgery, such as hip or knee replacement surgery.
The client's own body weight also offers substantial resistance as well. Pilates, when practiced on a regular basis, assists the client in developing strong muscles that are long and lean, sculpting the body while strengthening. What happens beneath the skin is that resistance training also creates strong bones, and that's important because as people age, their bone mineral density decreases. Pilates, as resistance training, helps maintain strong bones.
In addition, Pilates sharpens mental focus.
Another key component of the system is the body-mind connection. Clients must keep their minds on the exercise they are performing; there's no place for distraction. Since Pilates is based upon core strength, the client must keep her mind in the movement. Pilates can be very rewarding as well. Usually clients can see subtle improvements in strength or tone within several weeks of star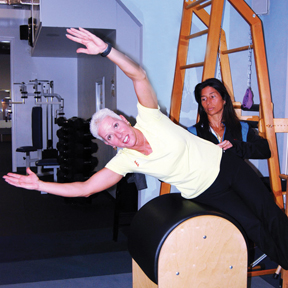 ting training.
The results may not be weight loss, but things like increased stamina, flexibility, improved mood and outlook and maybe even a positive change in the way clothes fit.
Daily activities may become easier, and minor aches and pains may decrease. That's motivation! As clients progress with Pilates, the trainer is able to adapt the exercises, making them more challenging by offering variations not only in movement but also in the resistance created by the springs.
Don't worry about boredom.
With Pilates, there's always something different to raise the bar, increase your strength, coordination and flexibity and decrease the chance of injury. Women don't need to worry about increasing bulk as they increase strength: Pilates develops long, lean and supple muscles. Who could ask for more?
Nancy Hawkins Rigg is the founder and owner of Forever Fit Foundation, a personal training business specializing in Pilates, Gyrotonic, Gyrokinesis, Yamuna Body Rolling and sport specific training. Forever Fit Foundation accepts clients at three sites: Dover and Lewes and Mendenhall Station, Pa., just over the Delaware line. A certified athletic trainer, she earned her bachelors degree from the University of Delaware and her master's degree in exercise science and sports medicine from Miami University in Ohio.