Photographs Help Us Cherish Our Most Special Memories.
|
At Debra Zeccola Photography, we understand that you are looking for an experienced and professional photographer you can rely on to capture the images that you can save and share for a lifetime. With over 25 years of experience as a licensed professional photographer, my goal is to consistently provide dedicated, reliable, flexible and affordable photo service in the tri-state area. I enjoy capturing special moments, whether it's an elaborate affair such as your engagement or wedding, or classic family portraits, reunions, headshots and more. 
I provide a wide range of services with the most current photography equipment. My equipment can be transported to your desired location to make your experience more comfortable and convenient. I utilize a combination of traditional and journalistic photo styles to provide a more beautiful and realistic high definition image. 
Updating Profile Portraits is Important 
Like the saying goes, "a picture is worth a thousand words." In this technologically savvy world, information is available with the touch of a button. Keeping your profile photo current is just as important as keeping information up-to-date. Current photos: 
• Put the name with a face 
• Helps individuals identify you 
• Indicate to others that you are active with social media 
• Displays that you are current with technology 
A thank you to The Women's Journal 
As an admiring reader of your magazine, I never imagined having the opportunity and privilege of being a part of your works. I have always appreciated the level of professionalism within the real-life stories and information provided in your articles. It has been my pleasure to view your photos and articles. I love having the ability to join such a strong journal. I'm excited to be part of team Women's Journal and enjoy adding to your articles.  ~ Debra Zeccola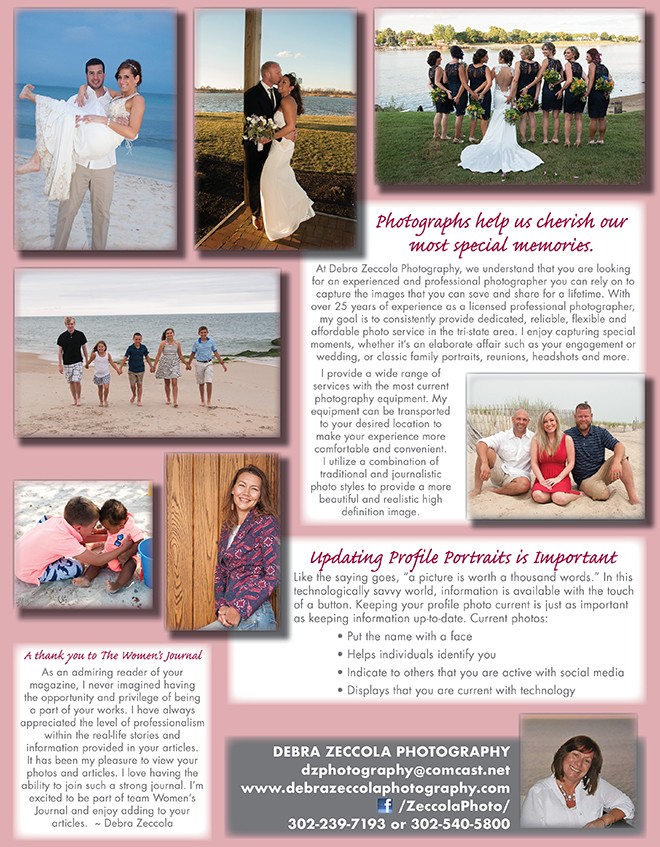 DEBRA ZECCOLA PHOTOGRAPHY
www.debrazeccolaphotography.com
302-239-7193 / 302-540-5800