People In Profile Kent County 2nd Quarter 2018
|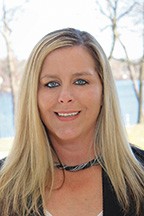 April Gambacorta
April Gambacorta was born into auto dealer royalty, but she's never been one to coast on her name. In fact, April has worked her way up from sales associate to web manager to finance manager to sales manager – without ever having worked for a Gambacorta family owned dealership. But that doesn't mean she didn't think it was pretty cool to see her last name on the back of so many cars when she was growing up.
Speaking of family, April is proud of the sales team she's built at Delaware Subaru. They work like a family and try to treat every customer like family as well. Studies have shown that buying a car can be very stressful, but April believes it shouldn't be. Over the course of her 15-year career, April gained experience in almost every facet of the dealership – from sales to finance to management. She is well equipped to make the car-buying process as easy and open as possible.
April was born here in Delaware and graduated from Saint Mark's High School in Wilmington. She is proud to support Christiana Care, Faithful Friends Animal Society, and United Way of Delaware. She loves to travel, hit the beach, and cheer on the Philadelphia Phillies and the Super-Bowl-Champion Eagles.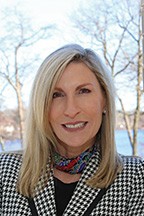 Lynne Schaefer, Chief Lending Officer, Dover Federal Credit Union
With an impressive leadership style that has garnered exceptional results, Lynne Schaefer has quickly climbed the Executive ladder at Dover Federal Credit Union, being most recently named Chief Lending Officer. Prior to this notable promotion, Lynne previously served as the Vice President of Business Services before transitioning to the Dover Federal's Chief Commercial Officer, where she developed a robust Business Services Division, while also redeveloping the collections department, known as Member Solutions.
Mrs. Schaefer brings over 20 years of diverse banking experience to her position. Her areas of expertise include commercial lending, business development, regulatory compliance, training and development, performance consulting, and investing.
Mrs. Schaefer, received her designation of Certified Chief Executive (CCE) from the Credit Union Executive Society (CUES) CEO Institute. She is a graduate of Salisbury University, where she received a Bachelor's Degree in communications. To Lynne, being a leader is not just a title, but a representation of your work ethic and reflection of your commitment to do what you love. "When you can set expectations and reward success, it's reassuring as a leader that you are creating a positive influence on the success of others. I love to see people succeed and if we can promote them internally, I believe that is a true investment for us as an employer and our employees." In addition to her diverse banking career, she is also active in the community. Lynne has served as Honorary Commander with DAFB while also being a committee member for the Greater Dover Committee. In addition, she is a Board Member of the Downtown Dover Rotary Club along with the Central Delaware Chamber of Commerce, serving as Vice Chair of Military Affairs. Her dedication to serve our local community and local businesses make her an invaluable asset to DFCU.
You can reach Lynne by calling 302-678-8000 ext. 3006.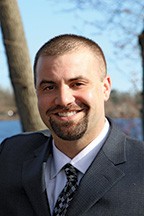 Brian Edward Fletcher
Brian Edward Fletcher is the grandson of Edward C. Fletcher, founder of Fletcher Plumbing, Heating, and Air Conditioning and the third generation to run the family business. Brian, 31 years old, was born and raised in Smyrna, Delaware. During his schooling years, he played many sports, and was very active in extracurricular activities. After graduating from Smyrna High School in 2005, he immediately started working for his father, Brian A. Fletcher. While working at Fletcher Plumbing Heating and Air Conditioning full-time, Brian enrolled into Goldey Beacom College where he studied business management. After college, he started the eight year process towards his Master Plumbing and Master HVAC License. Brian continued to advance and went from an apprentice, to HVAC installer, to HVAC technician, and finally landing a role as a company manager. Starting on the inside and working from the ground up, has helped him become the great leader he is today.
Brian's goals are simple: offer great service and great products for a fair price, treat every customer and employee as he would want to be treated, and continue the great reputation that his grandfather and father have had for the past 48 years.
Brian continues his education to learn not only the business aspect, but also the ever-changing technology of the plumbing, heating, and air conditioning field. He wants to make sure he learns as much as possible to enable him to give all his customers the best and most up-to-date options and products available.
Brain and his wife Amber, have been married for 7 years and have two beautiful children, Callyn 10, and Brain 4. They live in the same community in which the company was founded, Smyrna, Delaware.
Fletcher Plumbing Heating, and Air Conditioning Inc.     302-653-6277 www.FletcherPlumbingHeatCool.com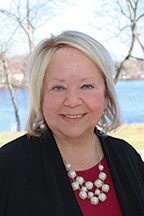 Dr. Lucille C. Gambardella
Dr. Lucille Gambardella is the Nurse Educator Consultant for the Academy of Sleep and Medicine in Delaware, a non-profit organization dedicated to educating the public on the importance of sleep and its effect on overall health. Dr. Gambardella is a graduate of; Villanova University with a Bachelor of Science Degree in nursing, Boston University with a Master of Science in Nursing with a specialty in adult psychiatric/mental health nursing and Columbia Pacific University with a Ph.D. in Organizational Behavior and Leadership Development.
Dr. Gambardella, or Dr. G. as her students and colleague call her, has been a nurse educator and psychiatric/mental health nurse clinician for 50 years and has taught in Diploma, Associate, Baccalaureate and Master Degree programs in Connecticut, Pennsylvania and Delaware. She is certified as an Advanced Practice Nurse by the American Nurses Credentialing Center (ANCC) and as a nurse educator (CNE) by the National League for Nursing Nurse Credentialing Center. She is a Fellow of the National League for Nursing (ANEF) for outstanding leadership and contributions to nursing education practice. As a teaching professor, her clinical focus was in psychiatric/mental health nursing. In 1980, she moved into the role of Chairperson at Bloomsburg University in PA and taught leadership and professional studies along with her administrative duties. She began teaching at Wesley College in 1984 and became chair in 1994 and held that role as well as the Director of Graduate Studies in Nursing since that time. In addition, she is the CEO of Positive Transitions, a consultation and clinical practice company she maintains to remain current in practice. She retired as a professor/chair emerita in 2012 and has continued as the CEO of her company Positive Transitions as an entrepreneur nurse consultant. She has published numerous articles and a workbook for the Wilson/Kneisl Psychiatric Nursing text. In addition, she has been a conference speaker at local, national and international programs including Sigma Theta Tau International Council of Research in Nursing in Cape Town, South Africa and Dublin, Ireland. Her research interests include nursing education issues, sleep and its effect on behavior and productivity, depression in women and she has completed and published her work on a study on marital discord following military deployment. Dr. Gambardella served as the President of the Delaware Board of Nursing and the Delaware Nurses Association. Professionally she is a member of the American Nurses Association, National League for Nursing, International Society of Psychiatric Nurses, American Psychiatric Nursing Association, National Association of Clinical Nurse Specialists, and Sigma Theta Tau International Honor Society.
In May of 2016, Dr. Gambardella was named the first Nurse Legend in the state of Delaware by the Delaware Nurses Association and Delaware Association of Nurse Leaders/Executives and was featured in Delaware Today magazine for her accomplishments. Dr. Gambardella is married to a retired counseling psychologist and has two daughters. She lives in Lewes, DE and enjoys walking the beach, reading, music, and hunting for collectibles in local flea markets and thrift shops!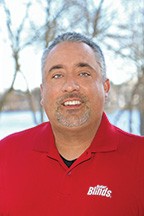 Joe Zohlmann, Owner, Budget Blinds of Dover
Joe has lived in Delaware since entering Graduate School nearly 25 years ago. It was here he met his wife, Kristin. Joe had no idea this "pit stop" would become the place where they'd raise their three (now) teenaged daughters. Joe grew up with a strong work ethic as well as with an understanding of the value of volunteering in the local community, thanks to his parents. He also currently coaches girls' softball. There is no greater responsibility than working with kids in sports. In today's world, young women especially need to build self-confidence and learn leadership skills. Sports are a great place to develop this and he is honored to help them learn, work, and hopefully have fun together doing so.
Since enjoying a successful 20 plus year professional career, Joe is now focused on Budget Blinds of Dover, which he purchased early in 2017. Joe feels like switching careers has been a lucky move. "Being able to serve my neighbors and the local businesses while staying in my own community has been a true blessing."
Joe believes that businesses grow by delighting the customers. He is also finding new satisfaction working with home and business owners to improve their space, one window at a time. "It's a great feeling when someone who calls looking for help is able to transform a problem window or room into a great showcase feature that allows maximum control of light, privacy and safety all while enhancing the real benefits of the windows. Not only is it amazing to consider how many years people are willing to deal with non-optimal window situations, but also just how beautiful and functional the correct solution can be."
You can reach Joe by calling or emailing Budget Blinds of Dover at 302-222-0796 or [email protected], or by visiting budgetblinds.com/dover.
Thanks To . . .
To Our Location
We would like to thank Dover Federal Credit Union for hosting our profile photo shoot at their lovely Silver Lake location.  Check out their website www.doverfcu.com or call 302-678-8000. A great local credit union.
To Our Photographer
Mike Baker is the founder of C.M. Baker Photography with over 26 year's experience. His photography ventures have been quite diverse. Throughout the year you may find him shooting a wedding, a Quinceañera, in the pits of a NASCAR race at Dover Downs and now at front stage at the Firefly Festival or flying over doing aerials. Giving back to the community has always been an important part of it all. Mike was awarded "Volunteer of the Year" from CDCC (Central Delaware Chamber of Commerce) in 2005, "Volunteer of the Year" from Kent County Tourism in 2010," Chairman's Outstanding Partnership Award from CDCC in 2010 along with "Business Person of the Year" from CDCC in 2008. Since 1997, Mike has been the "official" photographer for the KC Heart Ball and for the "Go Red" in Kent County since it's onset. Some of the past and present organizations have been: MD Kidney Foundation, DE Breast Cancer Coalition, Various DE Fire Companies, Bayhealth Foundation, Beebe Hospital, Dover Air Force Base, Autism DE, Relay for Life, MS Bike to the Bay and the Amish Bike Tour, to name a few.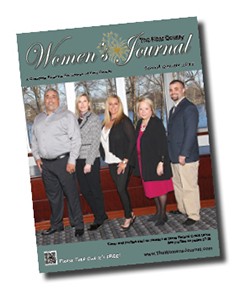 On The Cover… 
We would like to thank Dover Federal Credit Union for hosting our profile photo shoot at their lovely Silver Lake location. Checkout their website www.doverfcu.com or call 302-678-8000. A great local credit union.
I would also like to extend a huge thanks to Mike Baker owner of C.M. Baker Photography for photographing all of our attendees. None of our shoots would be possible without our partnership that we have with Mike. If you are looking for a professional photographer and all around great person to work with call Mike at 302-335-1500 or 302-242-6643.
We were honored to have 5 participants as part of our photo shoot, and I hope that you will let them know you read their profiles in the Women's Journal.
(click to flip through)