Peaceful Parenting Begins with You!
|
By Kathleen McCarthy CNM, MSN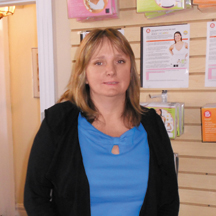 Most pregnant women prepare extensively for childbirth.  They research their options, attend classes, and tour birth facilities. They spend a great deal of time maintaining a healthy diet and practicing healthy life style behaviors. Yes, much love and time is invested in pregnancy preparation (as it should be).
There are classes available that cover a plethora of subjects related to pregnancy, such as: Preparation for Childbirth, Prenatal Yoga, and HynoBirthing. There are classes centered on caring for the newborn, cloth diapering, and breastfeeding. In contrast, there are few classes that are offered regarding parenting, most specifically parenting authentically.
As responsible parents it is important to prepare for childbirth as best we can. Yet it is equally as important is to prepare for the lifelong commitment of being a parent. Parenting is a journey filled with choices, challenges, joys, excitements, love, sorrow and special moments. So why not be just as prepared for being a parent as becoming a parent?
Each and every day there are countless decisions to be made. Our parenting decisions are influenced by factors that we may not even be aware of – influences such as how we were parented, our self-esteem, our general sense of health and wellbeing, environmental influences, as well as cultural and societal beliefs about raising children.
There are times when the choices we make from these outside influences can be overwhelming.
One of the greatest challenges in parenting authentically is determining what you think is right for your family from what other people's beliefs, ideas and judgments are about raising children. How often do you get "hooked" into someone else's ideas of what a "good" parent is or what the "right" decision should be concerning how you are raising your child or children?
When we buy into the beliefs of others, we end up being out of integrity with ourselves leaving us to question our own wisdom. When we feel unsure about our choices, a cascade of other negative feelings percolate up leaving us feeling stressed and out of balance. It is difficult to remain calm and peaceful when we are whirling out of control.
No matter what age your children are, there are solutions for getting back to center and creating peace and harmony within yourself and your family. As a parent you have the ability to tap into your inherent wisdom which offers an opportunity to parent more intuitively. Rather than reacting to a situation you begin to make healthy decisions for yourself and your family.
How do you begin to parent more peacefully? The primary thing to understand is that the role of parent begins within. It's easy in this information age to go to the internet, type in authentic parenting, parenting, parenting skills, how to be a better parent and come up with a formula. However by tapping into your inner wisdom you take a more holistic approach. This kind of approach to parenting begins with understanding and respecting yourself. As mothers we are often so absorbed in the everyday details of life we forget to nourish ourselves.
Here are three ways to begin to nurture yourself:
1. Breathe. Mindful breathing is essential to getting in touch with your inner wisdom. The way you breathe affects your whole body. Breathing exercises are a good way to relax, reduce tension, and relieve stress. It takes practice but is not difficult. Take a few moments to sit quietly. Focus on your heart and breathe in slowly, count to four as you breathe in and eight as you breathe out. Set an intention to focus on your breathing for 3 minutes and
as you get more skilled, increase the time to 5 and then 10 minutes.
2. Maintain a healthy diet. Maintaining an overall healthy diet not only offers your body the energy and nutrition that it needs to function, but offers several health benefits as well. The healthier your diet the better you feel.  Eat to live!  Provide your body with high-density foods.  Eat fresh
fruits and vegetables, good
fats and proteins.
3. Exercise. As a parent you probably feel that you get plenty of exercise. However, regular physical activity can improve your mood and the way you feel about yourself. Exercise is likely to reduce depression and anxiety, improve your mood, and help you to better manage stress. For the greatest overall health benefits, experts recommend that you do 20 to 30 minutes of aerobic activity three or more times a week and some type of muscle strengthening activity and stretching, such as yoga, at least twice a week.
The Birth Center is currently offering an Authentic Mama series which expands on the above statements. In this 6 week class, you will learn to come from a place of confidence, discover your needs, identify destructive patterns, and reframe your perceptions. You will discover how to communicate with others in a healthy way and then apply all of this to your unique
style of parenting.
To find out more about the series visit www.thebirthcenter.com/classes.
At the Birth Center we support your lifestyle and recognize your individual, physical, spiritual, and psychological needs, whether you are about to have your first period, you're pregnant, had a baby, or going through menopause. We believe that women and their families have the right and responsibility to assume an active role in their own healthcare.
To find out more about
The Birth Center visit our website at thebirthcenter.com or call us at 302.658.2229.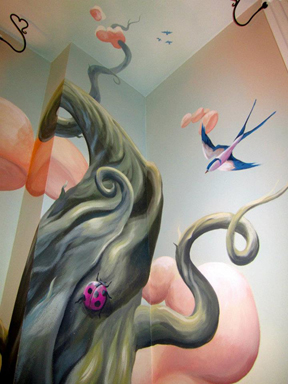 We were given a beautiful gift by the Kanienberg family. Christian, of Wish Painting and Sculpture, and proud Birth Center Daddy, painted a huge, whimsical beanstalk in the children's play area of waiting room. "About a year ago my wife discovered The Birth Center in Wilmington. I was skeptical as a lot of Dads are, but this facility soon became a home. We became fast friends with the staff and respective families. Wish wanted to offer a work to serve as a promotional piece, but mainly as a means to give back to the place that helped usher our daughter safely and openly into this world. The bonus is that a big baby girl arrived during the very execution of this mural. Piper's name is "carved" into the beanstalk trunk for years to come." Christian Kanienberg, Wish Painting and Sculpture: www.wishpainting.com
The Birth Center:
Holistic Women's Health Care LLC
1508 West 7th Street
Wilmington, De 19809
302-658-2229