Partners In Their Life, At Work And In Their Passion
|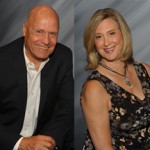 By Lynn and Nadiv Shapira
Neither the Shapira's, Lynn nor Nadiv, expected the turn their life took in early 2010. She, a metallurgic jeweler and he, a cardiothoracic surgeon at Christiana Hospital, were living their normal life, raising an 11 and a 12 years old children and two dogs, when the earthquake devastated Haiti.  Responding to the tragic event, Dr. Shapira, together with a few colleagues, organized the Delaware Medical Relief Team and took off on a mission aimed to treat the victims of the earthquake.  The end of this long and exhausting trip was the beginning of an exceptional and unforgettable endeavor that changed the lives of his entire family.
Standing on the deck of the small Dominican Navy boat that brought them to Jacmel, a southern Haitian beach town that was cut-off from the rest of the county, Dr. Shapira was absorbed by the beauty he have seen. It was like a surreal dream, and he instantly fell in love with the place. Two months later, his wife Lynn, joined him in his second mission. Like him, Lynn was also captivated by the magnificence of the island. But both were hit by the other side of Haiti; its despair and helplessness. They realized that the unimaginable number of casualties and immense devastation subsequent to the earthquake was primarily the result of the poverty and the vulnerability of the Haitian people and that similar tragedy in the future could be prevented by transforming the Haitian communities to become self-sufficient and disaster resilient.  Subsequently, she founded the Haiti Delaware Initiative (HFI) and he founded the Haiti Delaware Alliance Foundation (HDAF). HFI is aimed to address the immediate needs of the weakest individuals of the weakest society, the women and children. HDAF is working towards establishing a self-funded and self-sustaining model holistic village building on the rich Haitian natural resources and leveraging its  cultural and human assets.
Inspired by his exposure to Haitian patients presented with a chronic non-healing leg ulcer resulting from venous circulatory abnormalities, Dr. Shapira decided to take up a new challenge and study to become a specialist in Phlebology, the medical field specializing in the diagnosis and treatment of disorders of venous origin. Together with Lynn who choose to temporarily put her love of jewelry aside and contribute her charm, her warm personality and her organizational skills, they established First State Vein and Laser Center. Dr. Shapira now offers his extensive medical and surgical expertise to patients afflicted with venous disorders, from spider vein to varicose vein, utilizing the most advanced technologies.  Lynn and Nadiv Shapira continue their commitment to improving the lives and health of the Haitians, providing medical and social services in the town of Jacmel.