Pain. For Many Of Us, It's A Fact Of Life.
|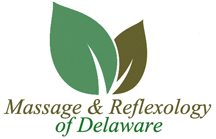 Our daily routines unfold as a series of physical insults. We spend hours slumped at our desks, stuck in traffic, struggling to keep up with chores around the house.
We suppress the "fight or flight" reaction each time we catch sight of our bosses, our in-laws, or exes, forcing stress deep inside our bodies. By the time we lie down at night, our shoulders are high-tension wires, our guts are roiling, and our legs are pillars of nervous energy. We rise in the morning stiff and exhausted and – guess what? We start the cycle all over again.
We weren't designed to live this way. When stressed, our normally supple tissues become rigid. Circulation and other essential functions are drastically impaired. Our muscles become oxygen-starved and unable to remove toxins. Left unchecked, stress can lead to a host of physical and emotional damages, from chronic aches and pains to extreme fatigue and even depression.
Thankfully, help is within reach. Therapeutic massage and reflexology are proven ways to counteract the body's unrelieved patterns of tension and stress. When administered regularly, massage and reflexology increase circulation, improve flexibility, combat stress and enhance the body's ability to repair itself. They reduce pain and encourage more restful sleep. Research shows massage and reflexology also improve the immune system.
None of this should come as a surprise. After all, touch is a sensory experience that benefits us throughout our lives, from the moment of birth until well into our senior years. Sadly though, many view therapeutic massage and reflexology as rare indulgences – part of a day-spa outing or a once-a-year gift to a spouse or friend – when in reality they are a vital course of treatment that can significantly improve our health and well-being. There is just no substitute for the healing power of touch.
"I have suffered from fibromyalgia for years. Some days I could hardly get out of bed because of the pain and stiffness. The therapists at Massage and Reflexology of Delaware developed a plan for me, and now I am virtually pain free and with minimal stiffness. Thank you, thank you, thank you for all that you have done."
~ Maria (Wilmington, DE)
Experience the power of touch
For more than 20 years, the therapists at Massage & Reflexology of Delaware have brought their clients lasting relief from stress, pain and discomfort. Their compassionate, knowledgeable care is tailored to the individuals they serve, their singular lifestyles, and the daily challenges they face.
Massage & Reflexology of Delaware's therapists undergo rigorous training in techniques that relieve soft tissue and muscle pain, reduce inflammation, and increase range of motion. Their practice brings together several strands of the healing arts to create an approach so unique that it has its own name: Fusion Massage Therapy. Therapists incorporate several different pain and stress-relieving techniques during their sessions, from deep-tissue massage to foot reflexology—a compression/release technique that acts on the nerve endings of the feet to bring about a number of healing outcomes.
"Our therapists have had amazing results where other forms of treatment have failed.  We are often imitated but never duplicated," says founder Terry Meyer.
Massage & Reflexology of Delaware clients have experienced significant relief from the symptoms of:
• Insomnia
• Arthritis
• Fibromyalgia
• Chronic Fatigue Syndrome
• Work-related stress
• Repetitive motion injuries
• Exercise-related pain
• Pre-menstrual syndrome
• Pregnancy-related discomfort
• Menopause
• Age-related loss of mobility
• and many other conditions…
Local focus, national reputation
Whether you're seeking to alleviate pain and tension or just looking for a way to relax and feel like "you" again, Massage & Reflexology of Delaware's focus on superior, individualized care sets it apart from the region's many other massage practitioners.
Clients can feel especially good about choosing Massage & Reflexology of Delaware, knowing that it's the state's only Nationally Board Certified in Therapeutic Massage & Bodywork (NCBTMB) practice and one of only 14 NCBTMB "Centers of Excellence" nationwide.
Relief is a choice. It's within your power to live again with less stress and less pain. Be sure to make an appointment with Massage & Reflexology of Delaware today.
Gift Cards available in any monetary value and fees are by session length, not technique.
Instant Gift Certificates available on our site:  www.MassageAndReflexologyOfDelaware.com
Call or email to schedule your appointment. "New Client Discount Coupon" on site.
Mon.-Fri 10am-6:30pm
Saturday 10am-4:00pm
(302)633-4035
1601 Milltown Road #15, Wilmington, DE 19808
302.633.4035  •  www.MassageAndReflexologyOfDelaware.com