Not A Foodie? Plan A Menu And Serve Your Guests Like A Five Star Chef
|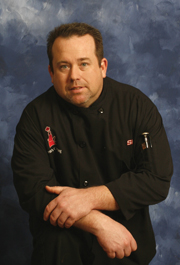 By "Sherm"
Let's start with the term "Foodie" –
these are people who seek out and thoroughly enjoy food in every aspect. They routinely try new tastes and recipes, usually love to cook and can virtually quote facts from the food dictionary. They're comfortable entertaining because they enjoy sharing new food finds with friends. Example: Martha Stewart is a foodie.
This article is for everyone else. People who would love to host the next big family gathering, impressing them with a delicious and memorable meal but are reticent to step up because they lack confidence in the food arena. Today I'm going to share insider information about planning and serving your own five-star event.
Secret To Success: Stay focused on this:  People always remember GOOD food, they remember when there was ENOUGH food to sate the guests, and they remember when their host/hostess was relaxed and warm versus a nervous wreck during the evening. Be warned though, these folks may want to come to your house for all future gatherings. But, after the first one I've got to say, I think you'll handle it like a pro.
Time of Day, Determines the Menu
The starting hour of your event will set the expectations of your guest on whether they should anticipate a full meal or more of a hors d'oeuvres laden cocktail hour.
In America, regular meal times are 7 – 8 a.m., 11:30 – 1 p.m. and 5-7 p.m. During these times a regular menu should be offered.
People Remember When They Left Hungry
Always plan for an additional 10 guests. You will be grateful you did when someone brings along an unexpected plus one, or you find your table lined with hearty eaters.
Determine portions by following this rule:
5 guests per pound. This is especially important for meat. Meat often becomes the center piece of the table or entrée. Example: Ten pounds of roast beef, should serve a party of 50 people.
I use this formula in my catering business to insure that my clients are not faced with complaints from their guests. Most caterers follow: 7 guests per pound. This is not advisable. You risk scant servings or running out of favored portions of the meal.
Portion per Person is directly Controlled by the Method of Serving
It's simple – buffet equals large servings and more waste. Why? People indulge when "no one" is watching. Service equals proportionate servings, less waste and almost always guarantees EVERYONE will have a chance to try everything on the menu.
A sit down dinner, where all the food is on the table has a similar effect as the server style because everyone watches as the person next to them takes a serving.
If you choose to have your guests serve themselves, use smaller serving utensils. For example use a small teaspoon instead of a serving spoon. You will be able to control portion size easier this way.
Style, Design, Theme, Garnishing Your Food and The Dining Area
Martha Stewart is famous for creating intricate works of food art to decorate her table or garnish and serve a dish. You don't need to be Martha to create the right ambience for your presentation.
Humans eat with FOUR senses: Sight, Smell, Taste and Touch. Incorporate some of these very easy tips in your planning. You'll be pleasantly surprised by your guest's reaction:
•  Use serving dishes when possible. Never put a pan or pot on the table or in the dining area. Today you can buy almost anything inexpensively and if you buy a few bits at a time ahead of your big day, you will be proud
to entertain and display your most
cherished purchases.
•  Fresh flowers add life to your table. You can get these from your local market these days.
•  Use candy, nuts, M&Ms, fruit in unconventional ways to garnish your plates.
•  Fill a vase with water, add a drop of food coloring, a few flower pedals and float a lighted candle on top. Sit back and watch your
guests be mesmerized by the beauty of it's simple elegance.
Bottom-line put your personal signature on your event, add your style. After all, your guests are your friends and family. They love you quirks and all. Remember the reason for a gathering is to bring people together. Serving food is a natural way to make this happen.  Bon Appetite!
With more than 20 years in the culinary business, "Sherm's" experience runs the gamut from operating small kitchens to fine dining at Harry's Savoy restaurants. He has studied HRIM at Del Tech and the University of Delaware. Sherm and his partner own and operate two very successful cafes with the third venue; The Skyline Grill, Sherm's Catering will be catering events downstairs opening early spring in Pike Creek with full catering services.
My best to you as you create the perfect wedding!