Neuromuscular Dentistry: Don't Suffer From Jaw Pain Again
|

By: Dr. Lewis Yu, DMD- All About Smiles, P.A.
North Wilmington and Pike Creek, DE
Do you suffer from headaches, neck or back discomfort, jaw pain when chewing or numbness and tingling sensation in your arms and fingers? You probably have tolerated these symptoms for years, by taking over-the-counter medications or seeing various health care professionals in search of relief of your symptoms.
The key word is COMPENSATION. The analogy I like to use is this: when a person is walking, it requires a balance act of nervous, muscle, and skeletal systems. Everything has to work perfectly in order to take a step. Imagine a small pebble is placed in your right heel. The body senses a foreign object. Using the nervous system, it tells the right foot to avoid landing on the right heel. In order to stay in balance, the left foot muscles have to contract more forcibly to accommodate for the additional weight placed on the left leg. The body successfully COMPENSATES for the imbalance in the system, for a short time. But what happens, when this person walks a mile like this? Muscles would be in spasm as a result of overworking. Spasm translates to pain, which is a signal to the brain that something is wrong. The same thing happens in your mouth.
As you wear down your teeth, the chewing muscles have to work harder to ensure proper breakdown of food for digestion. The more the teeth are worn, the harder the muscles must work to chew and thus take longer. The muscles get tired, which causes pain and spasm.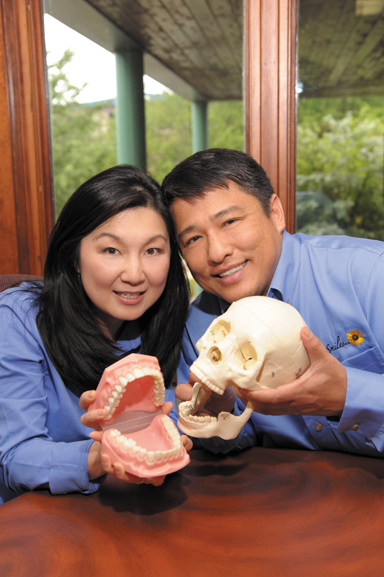 These problems may be solved through procedures utilized by a dentist who is certified and trained to perform neuromuscular dentistry. Neuromuscular dentistry addresses the way your upper and lower teeth come together or in occlusion. When your teeth do not fit properly, the muscles and joints try to accommodate or shift to a position so they can work together. Over time this causes the muscles and joints to work harder causing stress or pain which radiates from the jaw, down the neck and into the shoulders, arms, hands, etc.
The neuromuscular dentist, through a series of evaluations and measurements, will try to find a position in which the teeth, muscles, and the jaw joints meet, to become more aligned. The dentist will utilize various types of treatment to correct the misaligned bite.
The dentist begins with relaxing the muscles around the jaw using a TENS device (called a Myomonitor) which releases stimulations to the muscles adjoining the jaw. This may take several visits, during which the dentist collects detailed information including a comprehensive medical history and neuromuscular history. Once the muscles have relaxed, the dentist will determine where the more natural jaw position exists and then create an appliance called an orthotic which trains the jaw and teeth to bite in its new position.
If you are experiencing these symptoms or you are considering any future comprehensive dental treatment, you will benefit from Neuromuscular Dentistry. Occlusion should be a significant part of your treatment plan. When the mouth is created in perfect balance, it will work more efficiently and provide you with a smile to last a lifetime.
All About Smiles, PA. offers comprehensive general and cosmetic dental services, such as veneers, crowns, bridges, implants, whitening, as well as, Invisalign®. The practice also provides comprehensive neuromuscular(TMD) evaluations and treatment and smile makeovers.
All About Smiles, P.A. has two convenient locations at 4543 Stoney Batter Road, Wilmington, DE 19808; 302/239-1641 and 3411 Silverside Road, Concord Plaza, Weldin Building, Suite 100, Wilmington, DE 19810; 302/478-0666. Visit the website at www.allaboutsmilesde.com for directions, hours and more services.
Dr. Lewis Yu earned his dental degree from the University of Pennsylvania School of Dentistry in 1996. He received two years of advanced post-graduate oral surgery training in both the New York City Hospital System and the Hospital of the University of Pennsylvania. He continues his education through extensive hands-on training at the prestigious Las Vegas Institute for Advanced Studies and the Pankey Institute. The Las Vegas Institute has provided Dr. Yu with advanced training in Neuromuscular Dentistry and Comprehensive Aesthetic Restorations. He had practiced in Philadelphia and Newark, DE before joining All About Smiles, P.A. He is a member of the Delaware State Dental Society, American Dental Association, and  the Academy of General Dentistry.
Dr. Grace Liu has been practicing dentistry since 1996, having earned her degree from the New York University School of Dentistry. She continued her education through post-graduate studies at Columbia University, the Las Vegas Institute for Advanced Studies in Nevada and the Academy of Dentistry. She is also a member of the Delaware State Dental Society, American Dental Association, and the Academy of General Dentistry.
Dr. Lewis Yu and Dr. Grace Liu are married and have two children.
Publisher's Note:
You will not find a more friendly practice than All About Smiles. On my last visit I overheard another patient say "This is more like going to the spa than being at a dentist's office." They manage to combine the latest technology with an extremely pleasant staff that will leave you confident you are receiving the best dental treatment possible.