Mother of the Bride…Perfect Dress…Lady's Image!!
|
This is a true story:
Here Today and Wear Tomorrow!
Lady's Image
"My daughter, Katie, was thrilled last year when she became engaged to the man of her dreams. He is so handsome, loving and kind and

they are perfect together.  Her engagement ring is absolutely stunning and Katie is so happy she seems about to explode any minute.  We have spent over a year planning the PERFECT wedding.  Now it is my time to get my Mother-of-the-Bride gown. Excellent!"
What a happy story.  Do you have a color and style in mind?  "Just something that makes me look awesome", she says.  We begin looking at gowns and dresses and pull a few to try:  long gowns, short gowns, strapless gowns with jackets, and one-piece gowns with various sleeve lengths in a variety of colors and fabrics and laces. "Wow, I cannot believe your selection of gowns and dresses.  All unique and each gown or dress looking terrific and feeling comfortable", she said. As we work our way through trying on the gowns, we talk about the wedding location, the number of guests and other details about the wedding.  In that vein I casually ask, "And when is the wedding date?"

"TOMORROW"!  "I can always find the perfect thing at Lady's Image!  I've been shopping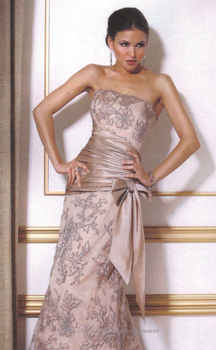 here for  30 plus years and I always find what I want, an outfit that sets me apart and makes me look gorgeous, younger and two sizes slimmer. Being a Mother-of-the-Bride is the same thing.  I knew I'd get the PERFECT dress for me today for tomorrow,"
Beautiful silver blue lace was the foundation of our floor length gown, "to be worn tomorrow". The sweetheart neckline was a perfect complement to her features. Our seamstress made a jacket  from the shawl that came with the dress. We chose a stunning blue crystal necklace and matching earrings from our local designer collection, Blessings. With the appropriate underpinnings, shoes and handbag, our Bridal Mother left our store totally ready for her role as Mother-of-the-Bride the next day.