Ming Wang!
|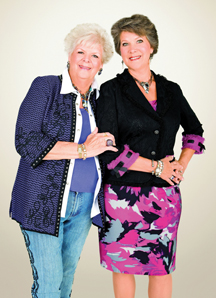 By Janice Venema


Jane Strobel and

Janice Venema
Lady's Image
LADY'S IMAGE  is excited!  Janice and Jane, co-owners, were selected by Ming Wang to be highlighted in the "I AM Ming Wang" look book, to be distributed nationally, featuring 15 to 20 women from across the country. The women have one thing in common, they regularly wear  Ming Wang in their day-to-day life.
Sisters, Janice and Jane, flew to Ming Wang's Dallas, Texas headquarters and were given a VIP three  day experience.   Meeting Ming Wang – touring the Ming Wang facility – meeting the entire team –  learning about the design process; seeing color options, trims and knit textures all creatively blended into the Ming Wang Collection was FABULOUS!
LADY'S IMAGE offers you Ming Wang's collection of affordable high quality separates – stylish, washable, comfortable and built to last.  Ming Wang specifically caters to everyday women with busy lifestyles.  "To this day real women continue to serve as the inspiration behind my collections," says Ming Wang. "Whether it is the busy mother, the doting grandmother, or the savvy business woman, the collection is designed with each of these women in mind." For ladies of all ages, shapes and sized XS-3X.  Ming Wang is your perfect choice for casual, career or occasion clothing.
Ming Wang treated us like royalty.  Ming, her husband and two sons shared family stories making us laugh and cry.  You would LOVE Ming Wang, wife, mother, designer and grandmother.  You will LOVE her clothing.
Stop by LADYS IMAGE and see our photos in the national look book and Ming Wang's Fall Collection.
LADY'S IMAGE, your destination for THE BEST OF DELAWARE – CASUAL, BUSINESS,  OCCASION FASHIONS AND ACCESSORIES!