Menopausal Hormones Revisited
|
By Dr. Richard Derman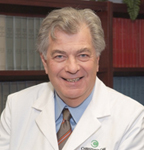 No two menopause experiences are exactly the same.
Many women experience the changes of menopause with few or even no symptoms.  For others, the physical onset of menopause can have a significant impact on their day-to-day lives.  Often talking to a health care professional and learning about the changes produced during menopause can go a long way towards helping ease the uncertainty and fear that may accompany such changes.
Christiana Care's Center for Women's Health in Greenville offers a clinical focus on menopausal medicine – the treatment and study of women who have completed the reproductive phase of their lives and have begun to exhibit the signs and symptoms of menopause.  These signs and symptoms are caused by changing hormonal patterns and often appear as irregular menstrual cycles, hot flashes, even vaginal dryness or issues around sexuality.
Why is menopause medicine important?
Such symptoms and concerns can dramatically alter a woman's quality of life, just at the prime of her professional career and often while having to maintain additional family responsibilities.  These compelling issues — often including sleep disorders , and muscle and joint pains – generally direct women to seek care from a physician.
Preventative health assessments are particularly ideal at this time in a woman's life.  A woman's family history can yield clues as to which clinical area our menopause specialist should view as an initial focus.  Women should be checked for their risks of developing heart disease, cancer – especially cancer of the breast and reproductive tract – and osteoporosis and fracture, as well as for symptoms of urinary incontinence and related sexual issues.
What is unique about Christiana Care's menopausal medicine program?
The Christiana Care Center for Women's Health is the only program in Delaware where patients can be seen by certified physicians in a collaborative care environment, offering the newest treatments in addressing pre- and post-menopausal symptoms and confounding conditions.
The Center for Women's Health employs specialists with certification in minimally invasive surgery, menopausal management, fracture risk assessment and for specifically addressing genito-urinary conditions.  The Center features the specialty care of Dr. Gretchen Makai, offering minimally invasive surgery; Dr. William Hohman, an authority in menopausal management; and Drs. Babak Vakili and Howard Goldstein, the experts from Christiana Care's Center for Urogynecology and Pelvic Surgery.
Women in Delaware and the surrounding region can feel comfortable that their concerns and health care needs will be expertly addressed at the Center for Women's Health. Our physicians can discuss with you key clinical issues such as alternatives to traditional hysterectomy, the appropriate mix of complementary and alternative medicine added to conventional approaches to care, and, one's individual risk for specific medical conditions.
Richard Derman M.D., MPH, is chair of Obstetrics and Gynecology for Christiana Care.  Dr. Derman is a national authority in preventative health for women.  He specializes in life quality and improving outcomes for peri- and post-menopausal women and additionally sees patients at the Center for Women's Health.
The Christiana Care Center for Women's Health provides a select group of women's health specialist focused on gynecologic issues that may become more complex for women beyond their child bearing years – conditions that can often only be addressed by special consultation, advanced treatment or surgery.  The Center for Women's Health is located at 3706 Kennett Pike in Greenville.  For more information or to schedule an appointment, call 302-623-6320