Massage For Women-Completing The Circle
|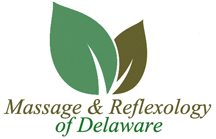 As a woman, you give a lot of yourself at work, at home, or both. But you aren't made to give unendingly without replenishing. The stream of giving must come full circle, completed by receiving. By committing to care for yourself
with massage therapy, you boost the physical and emotional resources that support you in doing all the things you want and need to do.
The Power of Touch
Research demonstrates that human beings need touch throughout their lives. At Massage & Reflexology of Delaware it is our skilled touch that can benefit almost everyone, no matter their age or situation. The best known and perhaps most underrated of these benefits is stress relief. The ill effects of unrelieved stress are well-documented, and massage can have a wide range of positive results. It can help restore your energy, relieve anxiety or depression, and increase immune function.
Help for Specific Conditions
Headaches – Whether your headache is from eyestrain, long work hours, or emotional stress, massage provides relief for tension in the head, neck, and shoulders.
PMS – Massage can soothe emotions, ease
low-back tension, and decrease the pain of menstrual cramping.
Insomnia – Massage decreases muscle tension and calms the nervous system, preparing you for a comfortable, deep and restorative sleep.
Arthritis – Massage can relieve muscle tension and increase flexibility for more comfortable movement in your daily activities.
Fibromyalgia – For anyone with this debilitating condition, regular massage relieves pain, reduces stiffness and fatigue, improves sleep, and provides emotional support.
During Pregnancy – Massage can reduce discomfort in muscles of the back, hips, and legs caused by increased or redistributed weight. It will also lessen excess fluid retention.
In Menopause – The discomforts of hot flashes, headaches, insomnia, and achy muscles can be eased with massage. Massage can comfort and calm you if you are experiencing emotional ups and downs. What's more, it can offer a reassuring and positive association with your body during this powerful transition.
Your Senior Years – Massage can help you maintain your flexibility and fitness by promoting mobility in both the muscles and joints and by helping you recover faster from injuries or surgery.
See our website for our "New Client Coupon". www.MassageAndReflexologyOfDelaware.com
Flat Fee Pricing & No Tipping Policy
• 90 Minutes — $95
• 60 Minutes — $65
• 45 Minutes — $50
• 30 Minutes — $35
• 1 Hour Synergy Massage — $95
(2 Massage Therapists)
• No Memberships, Tips or Hassles
Gift Cards available in any monetary value and fees are by session length, not technique.
Instant Gift Certificates available on our site:  www.MassageAndReflexologyOfDelaware.com
Call or email to schedule your appointment. "New Client Discount Coupon" on site.
Mon.-Fri 10am-6:30pm
Saturday 10am-4:00pm
(302)633-4035
1601 Milltown Road #15, Wilmington, DE 19808
302.633.4035  •  www.MassageAndReflexologyOfDelaware.com