Made in America! Creations Fine American Craft
|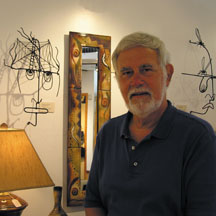 When reporters working on a recent series by ABC's Evening News attempted to find products made in America they were amazed to find so few items available in stores. In fact, they featured a family home where not a single item in the entire house was American made. Had the film crew visited northern Delaware and ventured into Creations Gallery, they would have discovered over 2200 items from 150 small American businesses available for sale.
Following a successful 20-year career as a research/consulting scientist at the Academy of Natural Sciences in Philadelphia, John Sherman opened Creations Fine American Craft (formerly, Creations Fine Woodworking Gallery) in Yorklyn, DE in 1992. Sherman, with degrees from Hamilton College, University of Vermont and the University of Delaware, decided it was time to let the right side of his brain have sway over his "second life." Inspiration for the gallery came from a family background in small business, a woodworking hobby and a desire to "rail against the homogenization of our society where chain stores and giant, vacuous superstores have spread across the nation like a plague."
Starting with six Philadelphia furniture makers, the gallery now features a large number of US artisans representing a broad range of crafts ranging from the purely aesthetic to the funky and functional. The gallery has moved several times over the past 20 or so years (from Yorklyn to Greenville to Hockessin to Newark, then finally back to Hockessin) with Sherman attempting to keep pace with demographic and economic change. After a brief move to Newark to avoid major road construction on Old Lancaster Pike, Creations has recently returned to Hockessin Corner, "home of the Back Burner Restaurant."
As with most other areas of retail, the business of marketing and selling fine crafts has changed dramatically over the last few years.  Several factors including the flood of off-shore products entering the country, the internet, the economy, the digital age and the new social media have influenced the nature of the gallery's buying decisions. More than ever, Creations focuses on fine crafts from artisans with limited production and those that confine their sales to 'brick and morter' stores. Although a challenge for the gallery, the result is a unique buying experience for  its customers.
For those seeking special occasion gifts, Creations offers a wide selection of jewelry, keepsake boxes, animal sculpture, wall art, decorative tiles, artglass, kitchenware, toys, puzzles, and gift cards.  Examples of distinctive pieces for the home include 'farm-fresh' furniture by Brad Smith, fine wood turnings by Avelino Samuel, Trees-of-Life by Brian Hooey and William Snell, pendulum clocks by Leonie Lacouette, wood sculpture by John Dickinson, bird carvings by Gordon Stennett and Wendy Lichtensteiger, fish sculptures by Paul Sumner and Alan Bennett and metal sculpture by William Wessel and Andrew Jacobs.
Creations maintains one of the longest running business websites in the country. Since 1993 www.creationsgallery.com has allowed the gallery to reach out across the country. Internet sales are conducted by telephone avoiding shopping cart software and thus ensuring personal attention for web customers.
443 Hockessin Corner
Hockessin, DE 19707
302.235.2310
Testimonials:
•  "My husband and I come to Delaware every November to visit Creations with our holiday shopping list in hand and always return home with the perfect gifts for friends and relatives."
~ Mary R., Cherry Hill, NJ
•  "We have been shopping with Creations since they opened in Yorklyn at the old Garrett Snuff Mills in 1992. We appreciate the one-of-a-kind uniqueness of their items. Artist bio cards accompany our purchases and we always take advantage of their complimentary gift wrapping. We have followed them through each of their moves and are very glad they are back in Hockessin."  ~ Roger & Sharon B., Greenville, DE
•  "Creations is my go-to source for great gifts. I have purchased many items over the years from their website and have always been pleased.  I enjoy working with John over the phone and find their UPS tracking feature very helpful."  ~ Peggy F., Sacramento, CA