Look Your Holiday and Winter Best at Bare Essentials
|
Make the winter and Holiday season more "fitting" by browsing our intimate apparel boutique where you will find bras galore in beautiful colors and traditional neutral tones to fit your mood or special occasion.
Our trained staff of bra specialist will help you start your Holiday Countdown with great fitting bras from Wacoal, Chantelle, LeMystere, Fantasie of England, Freya, Panache, and Anita. If you're a new mom or about to be, don't panic! Bare Essentials has many nursing bra options and you are sure to find a bra that fits your unique body shape as we cater to the needs of every woman.
Look like you lost five pounds without dieting with our collection of seamless shapers from Spanx, Bodywrap and Cass and Co. all have been featured in "0" the Oprah Magazine as "one of her favorite things". Each company represents a large selection of seamless, comfortable under fashion that will smooth the bumps,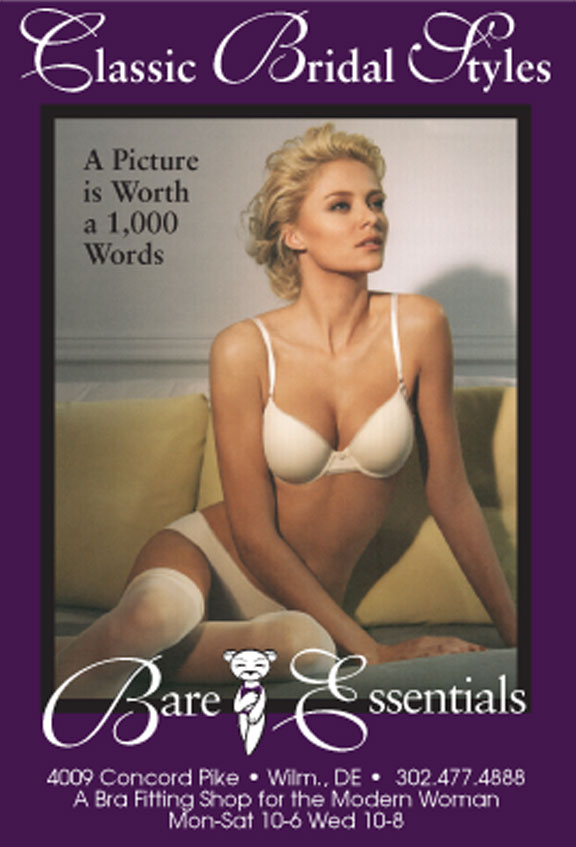 eliminate the bulges and allow a smooth flawless look under all your holiday and winter fashions. Tired of "back fat" or that little roll above the waist? We can provide just the right shaper with slimming materials that compress "the rolls" rather than push unwanted fat somewhere else. For a thinner, sleeker look we have just the right under fashion in sizes small to 3X. Talk about removing those unwanted inches around the waist and tummy, try the amazing Squeem waist cincher or vest. It instantly takes your midsection down 1 to 2 inches and also provides fabulous back support!
In addition to our 'huge selection of bras and shapers, we are proud to offer adorable camis, thongs and boy shorts from HANKY PANKY. Hanky Panky is known to have the best fitting thong on the market and is a favorite with many Hollywood Hotties! Their briefs, boy shorts and bikini style undies are one of the most requested names in the intimate apparel industry and we are very happy to offer them to you right here at Bare Essentials in many colors! Buy a style for yourself or select a pair as a special gift. No sizing problem as they come packaged One Size fits most.
Look your best from the bedroom to the boardroom with ARIANNE'S trendy tops and camisoles, for day time wear. Ideal to mix and match with your favorite suit, jeans or skirt. Or, choose a sophisticated lingerie or nightwear piece for the sexy side in you. Relax the night away with loungewear outfits from Arianne or P.J. Salvage. We "fit" the many sides of every woman.
If you've never shopped our bra boutique, you are in for a real treat. Our caring staff will pamper you and help you decide on just the right under fashion for your body and size. If you have enjoyed our shop in the past, we invite you back to see our new lines of bras and fashion forward seamless shapers, swimwear and lingerie. The Holidays are here and winter is following close behind. Renew your bra wardrobe and take a look at the new Bare Essentials.
If you're planning a winter vacation that includes sun and sand, you'll need a new swimsuit from our swim shop. This is no ordinary swim boutique! Swimsuits are bra sized with underwire support for the ultimate in lift and comfort. A great selection of tankinis, bikinis and one-piece suits are available all year long in
cup sizes D to J.
Who Knew!
Never shopped our bra boutique? You are in for a real treat! Our caring staff will pamper you and help you decide on just the right under fashion for your body and size. If you have enjoyed our shop in the past, we invite you back to see our new lines of bras and fashion-forward seamless shapers, swimwear and lingerie. The Holidays are here and winter is following close behind. Renew your bra wardrobe and take a look at what Bare Essentials has to offer. Visit my new website at www.mybareshop.com