Lifetime Wellness Of Delaware, Inc Celebrates One Year Anniversary
|
Just in time to help people with their New Years' resolution to lose weight, Lifetime Wellness of Delaware, Inc. opened the doors of their facility on January 4, 2010.  One year later, they are still helping individuals lose weight and inches as well as obtain more mobility and flexibility.
The clients at Lifetime Wellness enjoy coming here to exercise as the atmosphere is very relaxing.
Not only is soft music played but one can exercise in total privacy with curtains drawn around each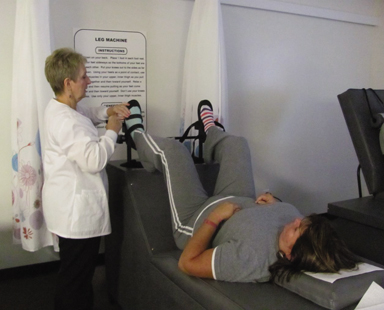 machine.   Christmastime has been especially nice with the lights of the tree and candle-light in the windows illuminating the exercise area.
A "Therapeutic Exercise Treatment" consists of exercising in comfort on five different machines for 10 minutes each.  Maximum benefits are achieved by taking two treatments each week.  Many individuals are very skeptical that these machines are of any value so the owners encourage everyone to come in for a FREE trial session to see and feel for themselves.
To help readers get a better understanding of this program we started in the last issue reporting on the different mach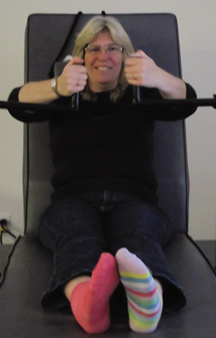 ines available for exercise.  We are continuing our education program in this issue by describing three additional pieces of equipment that are available for exercising.
Leg Machine
The leg machine slenderizes the whole leg area and concentrates on reducing inner thighs and "saddle bag" outer thighs.
Arms/Chest Machine
The arms/chest machine concentrates on toning and strengthening muscles in the arms, chest, shoulders and back.  Your hands can be placed in various positions along the shafts, enabling you to concentrate on specific areas.
Body Bender
The body bender machine strengthens and tightens muscles in the midriff, abdomen and waist, reducing inches in these areas.  Lower back muscles are strengthened and overall flexibility in increased.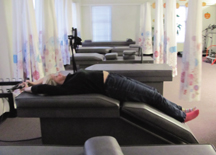 Testimonials:
"You're my Angel.  Thank you for opening Lifetime Wellness."
"I feel so much better I almost left without my cane."
"I haven't had any back pain since coming here."
With no obligation on your part, you are invited to try their Motorized Therapeutic Exercise Machines.  Your first treatment is absolutely FREE!!  Just visit the facility at 1012 State College Rd, Ste 103 in Dover, DE. 19904.  Should you wish to contact Lifetime Wellness of Delaware, Inc the telephone number is 302-735-5626.  You may also visit their web site at
Bob and Judy Ballis received their Certificate of Merit to operate their business after completing a training course presented by the inventor of the exercise machines.  They also have been certified in CPR/Basic First Aid.  They offer networking opportunities at their facility and participate in community projects.  Lifetime Wellness allows groups to exercise together such as "girls night out".  Give them a call today to make your appointment.