Life Coaching 101 – How To Be A Life Coach For Your Own Life
|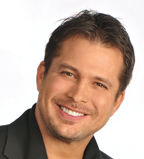 By Joe White
President and Founder of
Get Life Coaching.
2008 Entrepreneurial
Advocate of the Year
I tend to work a bit differently than most other life coaches.
Actually, I am more of a life strategist.
Most life coaching is about assessing where you are, where you want to go, and the goals needed to get there. All those things are important, but the setting of goals is never our problem. Heck, most people set goals every year on New Year's Eve, and then break them the next day.
Our challenge is to become the type of person
who will consistently do what it takes to achieve their goals.
That's where I come in. I help my clients move past their limiting beliefs, doubts, fears, and identity so that they are able to create the life that they desire on the deepest level. However, if I stopped there, I would only be creating a sense of dependency. In essence, I would be giving them fish… Nevertheless, I have always enjoyed teaching. Another difference with my approach is that I train my clients to become coaches for their own lives. In truth, I'm teaching them how to fish. It just makes so much more sense.
The Three Core Beliefs about Coaching
1.) It can change – We cannot change that which we feel cannot be changed. We must see change as possible.
2.) It must change – We don't change when change is something we should do or ought to do. We must make changing an absolute must. In other words, do or die.
3.) I can change it – Nothing changes until we change. We must take full responsibility for our lives by taking control of what we think, say, feel and do.
We are creatures of comfort, but we must grow.
It is nature's law that whatever does not grow will die. We cannot have both comfort and growth at the same time; they work opposite of each other. Both have value, but in the end, it is growth that must end up on top. Changing is not always easy, because it often feels uncomfortable and easier to stay where you are than to grow. Understand, though, we will not find fulfillment without growth.
We're not given an owner's manual to our brains, and to make it even more challenging, we are often given incomplete or misinformation. The more we are able to take control of US, the more we are able to take back control of our lives. This is empowerment, and this is where you begin to coach yourself and to go through life with your blinders off!
Till next time I wish you love and passion!
Testimonial
Joe White and his team teach and coach with a completely different approach than any other coaches or consultants I have used in our 25-year history. The difference is that they are effective from the first session on. Get Life Coaching gets to the core of the issues, correctly alters the mindset of the participants, and moves forward versus looking in the past. We continue to use Get Life Coaching as we grow and change as a company. ~ Beverly Stewart, M.Ed., Hall of Fame of Delaware Women Award Winner. President/Director, Back to Basics Learning Dynamics, Inc.
Visit us on the web:
www.getlifecoaching.com
www.facebook.com/getlifecoaching
www.twitter.com/getlifecoaching