Jessica Harper's Story: "Stopping treatment does not mean giving up on life."
|
Photos and story by Beverly Crowl
Jessica Harper, a native of Delaware, was never one to take it easy.  For ten years as a single mom, she raised three children while working and taking college classes at night.  With her hard-earned Bachelors Degree in hand, she went full speed ahead to earn her Masters Degree in Social Work.  As a Social Worker, Jessica worked for several agencies over the years, including Delaware Hospice, where she gained an appreciation for its mission of quality of life at the end of life.  In February 2012, when Jessica's world was shattered with the diagnosis of a terminal illness, quality of life at the end of life became her personal mission.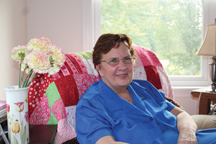 For the past five years, Jessica has courageously fought several types of cancer.  Determined to do everything she could to live, she underwent surgeries, chemotherapies and radiation.  She said, "Some days, I had to drag myself out of bed, despite feeling so sick, just to go for another treatment."
Finally, her oncologist told her that the cancer was back in her liver and there was no cure.  Jessica said, "He strongly urged me to continue chemotherapy because it might give me a little longer to live, although, of course, there were no guarantees.  I heard what he was saying, but I knew how my body was feeling.  I was tired of being pumped with drugs and dealing with the many debilitating side effects."
She remembered, "I felt almost victimized by how harsh it was on my body.  I was very sick.  With my last dose, I ended up in a wheelchair with no energy.  The essence of me was gone.  I had become a body full of chemicals trying to function and not functioning well at all."
Jessica got through the previous treatments with the hope that she would be cured.  "Now I would face those devastating treatments until the end of my life, without the strength I found through that hope."
Decision For Hospice
Jessica thought for a long time about what she should do.  She said, "My preference would be to live until 100, as would most people, but this option was off the table.  How would I now spend the rest of my life?  How could I treat my body with more dignity?  What was best for me and my family?"
With her experience as a social worker on a Delaware Hospice care team, Jessica knew well the support they offered to patients and families, and she decided to turn to them for help during the months that remained.
Jessica said, "Delaware Hospice's care team and I share the same goals—for me to be alive and enjoying my life as long as possible."
"My nurses arrive with a big smile and lift my spirits.  They really care about how I'm doing and listen to what I'm saying.   They are excellent with pain management, which is my primary concern.   They work with me as my condition evolves, finding the right medication and adjusting doses to best manage my symptoms.   I've called them many times, and no matter how silly the question, they're always happy to answer and assure me that it's not a bother.  Most of all, I appreciate the fact that they treat me with such respect, kindness and gentleness.
Jessica was always the planner of the family, organizing parties and get-togethers, and making sure everything was done right.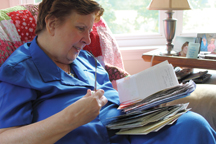 Now, as much as ever, she wants to be sure her family is prepared for the inevitable.   She said, "A terminal illness is a family situation and each member of the family needs support, so it's important to me that the Delaware Hospice team members care for the family and not only for the patient.
Even though she followed a career as a social worker, Jessica appreciates her weekly visits with her Delaware Hospice social worker, who was also a former colleague.  "It reduces my anxiety so much to have someone to talk with who can assess our situation, give us advice and information, and who really cares about how we're doing.   I'm able to express my feelings freely—whether it's to laugh, cry, or scream.  You can't always show your emotions with family members or discuss things openly.  Seeing them sad makes me feel worse, so it's important to have someone outside of the family to talk to who won't become as emotionally distraught as my family members."
Jessica didn't delay in seeking hospice care once she got the bad news, for one reason:  "I wanted my care team to know me as a person and my preferences so that further down the road, when I can no longer communicate, they'll be able to respect my wishes.   My entire family is also comfortable now with the staff.  They feel they can count on them and trust them, which again takes worry from me."
Jessica looks forward to her Delaware Hospice chaplain's visits as well.  "We have good discussions.  He challenges me to focus on what's important with my faith, and he's helped me come to terms with some unresolved issues.  Ever the planner, we've already organized my funeral.  It will be tough enough, and this will make it easier on my family.
"This is a difficult time and there's no way to minimize that.  But you can make choices that will help make it better.  Being cared for by Delaware Hospice does help make it better for me and my family
Quality Of Life
Jessica is now 4 ½ months along since the prediction of 6 months to live.  "If I had chosen chemotherapy, I would have been immediately bedridden and suffering physically as well as emotionally.  Instead, I've spent this time with family and friends, enjoying my books and cards, laughing at TV shows with my husband, and relishing good food.  I never realized how important it was to taste food until chemo took it away from me.  But I can still enjoy food and the nice meals my husband prepares.  It's a small thing, but I don't want to give that up."
"My husband of 23 years, Bruce, takes wonderful care of me.   Knowing that I miss working in my garden, he places a bouquet of fresh flowers in my room every week."
A journal of notes and drawings sits on Jessica's table at her side.  "My daughter suggested I write down some memories, so I pick it up from time to time and share things from my life—books I've read, what school was like in my day, my favorite TV shows, what was popular when I was growing up, and some crazy things I did–such as dying my hair which then turned green.  I want my grandchildren, especially, to get a sense of me and my personality and not be left with the memory of the sick person they've seen these last few years.  It keeps me busy and feels good to be leaving something behind."
"My cousins and friends send cards in the mail every day with a prayer, a bible verse, a smile, or a big hug to lift my spirits.  I don't have a lot of energy to do things outside of the home, but I do enjoy the comfort of my home, surrounded by things that are meaningful to me."
"I appreciate little things every day, like the flowers and the trees, the beauty of nature around me.  It is not easy to face the end of my life, but I feel at peace knowing that I have some control over how I spend my remaining days.  Right now, I am sitting in my favorite chair with the sun shining on me, I hear birds chirping outside, and I'm smiling."
About Delaware Hospice
Since 1982, Delaware Hospice has provided exceptional care and support to 41,500 patients and their families.  Its mission is to help each patient, each day, live the fullest, most comfortable life possible.  Delaware Hospice is the largest and only licensed, nonprofit, community-based hospice serving Delaware and southern Chester and Delaware counties in Pennsylvania.    Delaware Hospice is honored to be accredited by the Joint Commission, the nation's leading health care standards-setting and accrediting organization.  Delaware Hospice was voted as a 2011 Top Workplace in an employee survey by Workplace Dynamics and the News Journal.  For more information about Delaware Hospice's programs and services, upcoming events, or employment opportunities, call 800-838-9800 or visit our website, www.delawarehospice.org.