It's Never Too Late!
|
By Anna Marie Mazoch, D.D.S.
In this issue of the Women's Journal, I would like to introduce you to a patient with some interesting problems and a history  of neglect. Allow me to have John S. tell his own story, paraphrasing his words: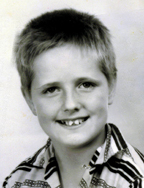 "I was referred to Dr. Mazoch by my sister; I knew she would direct me well. It had been 30 years since I had been to the dentist. I had never had my teeth cleaned before and only went to see the dentist when I was in pain. When I was 12 years old, a friend threw a toy gun at me while we were playing, I ducked in the wrong direction and it hit my front teeth. Ever since, if I had to smile I would cover my mouth; for more than 30 years, I didn't smile. But then those two teeth had eroded so much, they were broken on the side, I was having some pain, they looked awful and food was getting stuck. So, I was motivated to call Dr. Mazoch.
I thought that all dentists were good for was pulling out teeth but I was wrong. It took me maybe half an hour to feel comfortable in Dr. Mazoch's office. The procedures seemed easy and the treatment was definitely comfortable. It didn't take long to overcome my fear and everything seemed to go rather quickly. I am very motivated to keep things up. I was in deep depression when I first came to Dr. Mazoch, but now she's given me a reason to smile again! Thanks seems so little to give in return.
My advice to others is to not be afraid because of the pain; pain is not an issue. The treatment is definitely worth it and prevention, brushing, and flossing, is so important.  Education was also important. I didn't know that there were things you could do to fix my teeth and I didn't know how much effect my dry mouth had on my mouth condition. So, do it sooner rather than later."
John S's two front teeth were unfortunately too damaged to repair, necessitating extraction. A provisional and temporary removable appliance was made during the healing process. His very deep bite (his lower teeth nearly hit the roof of his mouth) made a fixed bridge (crowns with attached false teeth) necessary. We also performed periodontal cleanings, placed multiple fillings, and three individual crowns.
John has graciously granted me permission to use a number of photographs of his before and after smiles, including his picture as a 12 year old school boy. He shows us that IT'S NEVER TOO LATE TO ATTAIN ORAL HEALTH.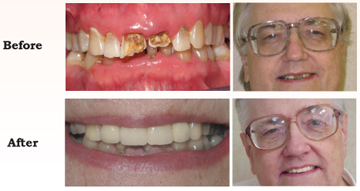 Dr. Anna Marie Mazoch received her B.S. degree in Biology, summa cum laude, from Ohio University and her D.D.S. from Northwestern University. She is a member of the American Dental Association, the Delaware State Dental Society and several local dental study clubs. She has been practicing general dentistry for 32 years, first in Cincinnati, then Montpelier, Vermont, and the past 11 years in Delaware. Her keen interest in continuing education for herself and her staff stems from a quote by G. V. Black, the first dean of Northwestern University Dental School and the father of modern dentistry: "The professional (wo)man has no right to be other than a continuous student".
2601 Annand Dr., Suite 18, Wilmington, DE 19808
We are conveniently located near the corner of Kirkwood Hwy and Milltown Rd, near Pike Creek and Milltown shopping center.
Email:
Visit us on facebook
Phone: 302-998-9594
Fax: 302-998-8207