Huh? Can You Say That Again….
|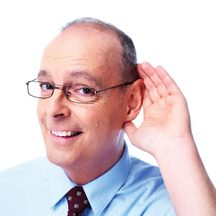 Does this seem familiar?
• I don't hear well because other people mumble.
•I just can't be seen wearing a hearing aid.
• I know people think I'm not as sharp as I used to be because I don't hear as well as I once did.
• Hearing aids are a waste of money. My friend's are in his dresser drawer.
• I don't trust anyone who wants to sell me a hearing aid.
• My hearing is not bad enough to need hearing aids.
Huh? Are you aware that you are asking for repetition by saying "huh?" or "pardon me?"
Is someone in your family asking, "Can you hear me?" This question is not just the cell phone commercial joke; it is asked by husbands to their wives, by wives to their husbands, by adult children to their parents … it is asked when members of a family become frustrated with or even joke about a loved one's untreated hearing problem.
Interestingly, people do not joke about visual impairments yet hearing loss seems to be the brunt of many jokes. Unfortunately, we believe this social attitude is a real barrier to acceptance of communication problems. Hearing loss affects all age groups and is more prevalent than you think.
•1 in 10 people over age 60 have hearing loss;
• 1 in 6 baby boomers (ages 41-59), or 14.6%, have a hearing problem;
• 1 in 14 Generation Xers (ages 29-40), or 7.4%, already have hearing loss;
• At least 1.4 million children (18 or younger) have hearing problems;
• It is estimated that 3 in 1,000 infants are born with serious to profound hearing loss.
Many individuals are unsure of how much hearing loss they have and if their hearing loss really warrants hearing aids. The only way to know this answer is to be tested by a
qualified audiologist.
A primary concern of most individuals with hearing difficulties is knowing where to go for help.
An audiologist is a professional who specializes in evaluating and treating people with hearing loss with special training in the prevention, identification, assessment, and non-medical treatment of hearing disorders. By virtue of their graduate education, professional certification, licensure, and training; audiologists are the most qualified professionals to perform hearing tests, dispense and fit hearing devices, and refer patients for medical treatment or evaluation.
The second concern individuals express is uncertainty of what to expect from their audiologists.
The process of optimizing your communication abilities takes teamwork. You are a partner in your hearing care, never just a patient with problems to be treated. Your concerns and desires play an important role in determining your communication options. The benefits of different technology will be explained and the audiologists will make a recommendation based on realistic communication goals. As audiologists, our responsibilities to you are to thoroughly and accurately diagnose and recommend appropriate treatment, to counsel you on expectations and adjustments to a new world of sound, and to teach you and your significant other communication strategies. You should expect follow-up visits within two to three weeks of your initial fitting of hearing aids. You, too, have responsibilities. As a new or previous hearing aid user, you will be asked to wear your hearing aids on a regular schedule so that your brain can acclimate to these new sounds. You and a family member or a friend can practice implementing new communication strategies into your daily living. Most importantly, in order for us to help you, you must be willing to follow the protocol set by your audiologists so that adjustments can be made in accordance to your acclimation and progress. Some individuals may visit their audiologists for a couple of visits and reach optimum benefits, while others may require more help depending on the degree of hearing loss and duration of time prior to getting help. Together, you and your audiologists can maximize your communication abilities. If you are saying "Huh?" or a family member has commented that you don't seem to hear as well, it is time to find out why.
It's time.
At Hearing Services of Delaware, we are dedicated to helping you optimize your hearing. We promise to provide an accurate and thorough diagnosis, set realistic expectations, schedule follow-up visits to ensure proper fitting and adjustments.
After working with you to determine realistic goals for improving your condition, we will recommend only the services or products we believe are best suited to help you meet those goals. At Hearing Services of Delaware, you are a partner in your own hearing care. Hearing devices can have a dramatic positive impact when a patient along with their partner or family members are properly counseled and supported through the process. We are honored to be a part of such dramatic improvements in the lives of our patients. Let's work together to make a positive change in your life and those around you. You are worth it!
Helping Delaware Hear Well Again
Locations in Dover, Glasgow & Middletown
Call (302) 376-3500 for Your Free In-Office Hearing Aid Trial & Demonstration!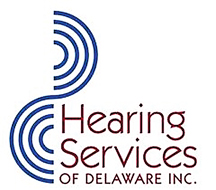 Kiijuana Cann, Au.D.
Rebecca Holowka, MS, CCC-A
Lisa Marencin, MS, CCC-A, FAAA
Stacy Sanders, Au.D