How Things Start Is Often How They End.
|
How things start is often how they end.  This simple saying is the basis for all valid horse training techniques. It is every trainer's job to introduce discipline upon the horse without forming negative association to the discipline. Not only should training avoid negative association, it should remove non-prosperous habitual behavior. That sounds complicated, but in reality, what I'm saying is the training of a horse is 90 percent of what you do not do. As a matter of fact, how a horse is being is much more important than doing (especially with a young horse).
The truths of being are why it is so difficult to find well-rounded, knowledgeable trainers. Humans tend to focus on doing this and doing that, so they end up with a big pile of do-do. Not to mention, arrogance and pride, which seem to enter the equation as soon as a trainer knows his/her proverbial ' butt from a hole in the ground.' These two human conditions are a definite no-no for training horses. If there is one thing horses have taught me (and they have taught me a lot!), it is how to be humble. Not every horse is the same, so a trainer must evolve his or her training techniques to ensure each horse in their care progresses in a healthy manner. A great trainer also knows when a horse is 'stalling' and needs to move on to the next level, and they do so without causing the horse to blow apart.
A knowledgeable trainer will always approach training from the 'prey mentality' instead of the mentality of a predator (after all, horses are prey animals)! Teaching a horse to accept pressure induced by predators without trauma mentally or physically is what trainers are to do. Like we said, the approach or the beginning is going to dictate the rest of training – and ultimately, how your horse will respond when asked to do something new. Just remember – oppression always results in rebellion. Rebellion of a 1400lb creature is not conducive to human health. You really do want a relationship based on mutual respect and love, if that is the foundation, then it will be a beautiful ride.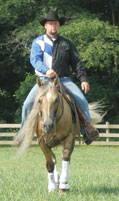 Testimonial: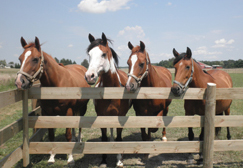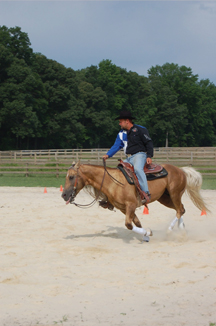 I first met Dean when I was working for an Equine vet. We came out to treat a horse for a simple cut and I remembered being overly impressed with how calm and concerned he seemed to be with this horse.
I remember asking a few questions to the vet I was working with – who he was and what he did. I had never seen such happy horses – and at the time, I had a "dangerous" horse that needed to be fixed as his life hung in the balance.
I gave Dean a call a few days
later and brought my horse down. Gilbert took to Dean immediately –
a horse that once bucked people off the minute they stepped into the stirrup was calmly letting Dean and his assistant mount and walk around within two weeks. I didn't fully grasp what Dean had done for Gilbert then. After our sixty day stay – I took him back home. Watching the way they worked with horses and the amazing results they got – I found myself looking at issues I was having with my "well-broke" horses and wondering if my horses were truly being "bratty" or if I was to blame.
I made the decision to bring my horses down to Dean's permanently – and they are so much happier for it. I can't possibly describe what it's like to actually communicate with your horse and be "as one". My horses are calmer, happier, and so am I. The knowledge I have gained in these past five years has made me not only a better rider – but also a better horse owner. To bring someone a horse that has taken out some of the top trainers in the area – and to see that horse no longer want to buck and hurt someone – not because he has been 'run down' or starved – but because he wants to please you and be with you is a feeling comparable to winning the lottery. The sheer enjoyment I have when working with my horses with Dean is something I'll treasure always and I hope every horse owner gets to experience that kind of relationship with their horse. Kaitlyn Krol, Dover, DE
Centaur Training, LLC
A full-service boarding/training facility.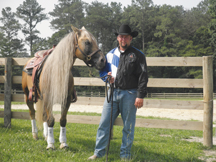 22000 Heritage Farm Rd.
Bridgeville, DE 19933
302-245-5423
[email protected]
www.centaurtrainingllc.com