Hollywood's Secret Facial… Only At Tuscany Sun & Spa!
|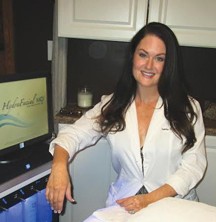 By Yvonne Estes-Gallagher
From the moment you step outside in the morning, your skin feels the effects of the environment… pollution, toxins, wind, and UV rays cause undetectable damage. Our focus is on restoring your skin to its healthiest state by removing impurities and replenishing your skin with essential nutrients. The result is that you will not only look better, but you will immediately notice a dramatic shift in your skin for the better. Loved by the medical community, beauty editors, and celebrities alike, the HydraFacial MD resurfacing procedure is an incredible non-invasive treatment that utilizes award-winning, patented technology to detoxify, rejuvenate and protect your skin. It delivers immediate results and long term benefits without downtime and irritation.
Who is The HydraFacial MD for?
The HydraFacial MD Treatment is not only highly effective at improving overall skin health for every skin type, but also excellent for remedying:
Fine Lines & Wrinkles
Elasticity & Firmness
Skin Tone Evenness & Vibrancy
Skin Texture
Hyper-Pigmentation
Oily Skin
Enlarged Pores
Advanced Signs of Aging
How does it work?
The customizable HydraFacial MD treatment was developed to mitigate some of the most universal skin concerns, and is tailored to safely and effectively target those problems to finally give you the solution you have always been searching for. Your skin isn't like everyone else's and your treatment shouldn't have to be either. This incredible 60-minute treatment will leave your skin hydrated, plump, and younger in one treatment!
The unique vortex-fusion serum delivery system is what sets the HydraFacial apart from other procedures. The multi-step treatment includes:
Cleanses using a powerful active-4 serum and vortex tip to remove dead skin cells to uncover healthy new skin.
Evenly exfoliates using a 6lySaL tip (a mixture of glycolic and salicylic acids) which delivers the benefits of a peel without post peel scaling.
We then follow with extractions using a high power patented automated vortex suction that painlessly cleans out pores with the exclusive beta-HD serum.
We then replenish the skin using vital antioxidants, peptides, and hyaluronic acid serums that nourish and protect the skin.
We conclude with LED photo-rejuvenation light therapy to aid in circulation and repairing of your skins DNA.
Testimonials
"I have struggled with my skin for over 20 years, and the HydraFacial has been the only treatment that has provided me with instant results. After only two treatments, I have smaller pores, less redness, and my acne is under control. I would highly recommend this treatment and the Jan Marini product line to anyone with skin concerns."  – Michelle Dunn
We'd love to show you how The HydraFacial can rejuvenate your skin! Visit our website www.tuscanysunandspa.com or call us at (610) 444-3570.
After 20+ years of experience in salons and spas, Yvonne Estes-Gallagher wanted to bring her vision to Kennett Square. Her goal was to create an experience where you feel like you are coming home. So Tuscany Sun & Spa was born, a high-end salon and spa with a family feel. Come home to Tuscany, and experience Hollywood's famous HydraFacial MD treatment.
HydraFacial MD=Skin Health for Life
90% of skin damage is caused by sun exposure
After the age of 20, you produce 1% less collagen in your skin each year
Mention the Women's Journal while reserving your appointment 
and receive $25 off a HydraFacial MD treatment!