Holiday Travel
|
Each year I write about how traveling during the holidays is an adventure you should experience.
Well, I have finally taken my own advice and have planned to celebrate Christmas with family members on a cruise.
There is a sense of apprehension because not all family members will be traveling with us, and I will miss the large group feel of the family. However, those of us who are going are excited to try something new and see how holidays are celebrated outside the United States.
In planning this trip we decided to take a cruise where we can visit various ports and experience how they celebrate the holidays. However, if you decide to stay at a resort in the Caribbean you get to engulf yourself in the culture of that island for 1 week or more.
I enjoyed planning this holiday vacation and I decided to offer additional group travel opportunities.
Join Simpson Travel in August at the All-inclusive Sandals Grand Riviera for 3 nights or more with a very special rate of $350 per night double occupancy rooms. That is $175 per person/ per night in a double room.
Here are additional holiday specials for you to consider:
•  Aruba:
Book Now – April 12, 2013; Travel January 3 – December 16, 2013
•  Mexico:
Book Now – April 7, 2013; Travel October 1, 2012 – April 7, 2013
•  Punta Cana:
Book Now – April 30, 2013;
Travel December 23, 2012 – December 23, 2013
Note: Above specials are based on availability. Hotel blackout dates may apply.
Testimonials:
Crystal, I never really thanked you for arranging everything for us. I know I can go online and do it myself but I'm not the professional and would worry constantly about making an error.  It's nicer to have somebody who knows what they're doing.  Thanks so much.  ~ Joyce N.
I came across Crystal's add in the local Metro magazine. I decided to call her to see if she could help me plan our vacation. What a God send! All I had to do was tell her what we were interested in, gave her a budget, and she found us a great vacation that had everything we were looking for as well as fit our budget. She was very thorough and paid attention to the details of what interested our family and her involvement with planning our vacation truly expedited things. I really appreciated all of her help, and we thoroughly enjoyed ourselves on our cruise. Our family looks forward to working with you for our
next vacation.  ~ Tiffany S.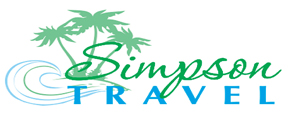 For further information please call Simpson Travel 302-378-0894 OR
email [email protected].
Check out additional specials at