Giving My Staff A Chance To Shine
|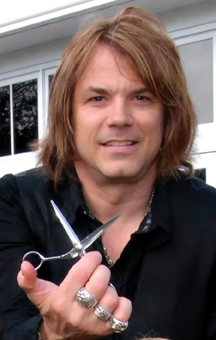 By: J. Christian
of J. Christian Studio in Hockessin, DE
"Without fear there is no courage,
without strength there is no growth."
I'm not sure of the origin of this quote, but I first heard it from one of my mentors Michael O'Rourke, founder Sexy Hair. I use this quote a lot because it's one of my defining beliefs. This is one of the basic principals I teach my staff.  I have asked them to step out of their comfort zone and create this month's article. Their fear turned to courage and their courage turned to growth. Please allow me to introduce you to my impressive staff at J Christian Studio.
The Consult is More Important than the Cut or Color.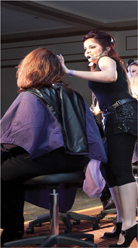 Whether the client is in my chair for the first or fiftieth time, I purposefully focus on the most important aspect of the appointment: The Consult.  This is exactly where miscommunication occurs and exactly where my client makes the decision of whether they're confident I have the skills and talent to deliver the look they have their heart set on. Advancements in this industry seem to run minute-to-minute.  Staying current with professional standards requires a stylist to constantly pursue inspiration and education outside their immediate surroundings or find an experienced mentor with deeper talent than theirs to train under. The next time you're in the chair, talk about what inspires your stylist – you may be surprised what you learn.    ~ Masha Kohli, Senior Hair and Make-Up Artist
Peeling, Splitting and Breakage.

I see a lot of clients for help healing damaged or unhealthy nails.  In the salon, the most frequent symptoms include peeling, splitting, and breakage and the culprit is usually dehydration.  These symptoms often can be reversed quickly and without permanent damage by hydrating with quality cuticle oil like Solar Oil from Creative Nail Design.  For more severe cases I recommend soaking your nails for about 10 minutes in warm cuticle oil. Clients tell me this brings immediate relief and lays the foundation for successful at home treatment.  Using cuticle oil in the morning after your shower and in the evening prior to bedtime will nourish your nails and restore flexibility.     ~ Donna Moore, Master Nail Artist
Just Want to Be the Best.
So, when I told my family I wanted to be a hair stylist they weren't surprised. I was bit by the beauty bug early, drenched my brain with everything industry related and went to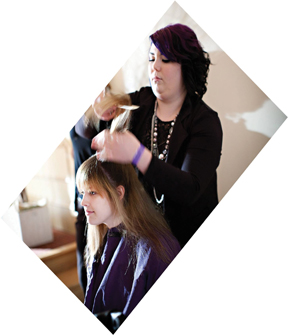 one of the best schools. Keeping momentum gets tougher though after graduation as students become salon assistants or work in chain salons to get experience. I needed to feed my passion. Since graduating I've used my skills to create fairytale characters for charity shows, cut hair on stage in front of a crowd of 800, and have the satisfaction of seeing my work on the cover of magazines. I believe these experiences make me a better-rounded stylist. Can't imagine becoming the best without them – wish me luck!     ~ Liz Cimino, Junior Hair and Make-Up Artist
Tame Your Mane.

Lots of clients ask me how they can maintain the "salon" look at home. Frizzy hair especially is very hard to manage without several products. This can get expensive and take a lot of time to do every day. If frizzy hair is a chronic problem for you a Brazilian Blowout may be the answer. This is a chemical-free, conditioning treatment that transforms frizzy, curly, damaged hair into silky, smooth, Hollywood hair.  The treatment lasts about three months and it only takes about 90 minutes to do at the salon. I highly suggest this to women who want silky shiny hair without the work involved.     ~ Jessica Zerilla, Senior Hair and Make-Up Artist
J Christian is an award-winning, International Platform Artist and Master Educator for Sexy Hair, Los Angeles. Together with his wife Marcy they own and operate J. Christian Studio in Hockessin, DE. He travels the world and regularly teaches at the Institute of Courage, a hair academy in California founded by Michael O'Rourke. Owner Michael O'Rourke Hair. The salon is accredited by the Better Business Bureau, is the proud recipient of the Better Business Bureau 2010 Torch Award for Market Place Ethics and recent recipient of First State Favorite Salon for Women in New Castle County.