Girls Start Your Engines!
|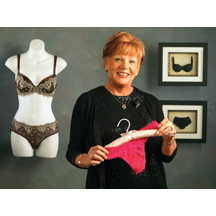 By Debbie Esslinger, Owner
It's that time of year when shopping becomes a race and we rush around trying to split ourselves into multiple people to cross the finish line before Christmas and the New Year arrives.  Internet shopping has become increasingly more popular but is it the right thing for you?  There are many pros and cons to internet purchasing but here are a few things that make our shop unique.
Certain items are better left for personal shopping and being assisted by a real individual. Shopping for intimate apparel such as bras or shapwear are definitely items you would want to buy in person.  But, how are you supposed to know which undergarment is the right one for you even if you shop in person? Bare Essentials has been around for 15 years and we pride ourselves on our customer service and the individual bra fittings we offer every woman.  We are not in a huge mall but rather serve our customers in a small, intimate setting providing a large selection of bras in sizes not found in regular department stores.  Great care is taken to make sure each customer receives our undivided attention and honest recommendations before purchases are made.  We want you to "try it before you buy it".  On line bra shopping may sound easy because the retailer may offer a diagram or a "How to Measure Yourself" tutorial or video.  Following the instructions will give you a guideline to follow, however, you will still not know for sure if you are ordering the correct size or style of bra for your body type.  There is no substitute for a personal bra fitting from our qualified bra consultants.
In addition to fitting advice, every customer is given a Bra Club Loyalty Card and we offer free shipping on any specially ordered item.  Because fitting and sizing YOU is the most important part of our job, we create your individual profile for future purchases.  The people in your life will love the fact that they can come to us, have our consultants look up your profile and help them pick a gift that will be just the right fit.  We offer elegant gift wrapping at no charge and our Bare Essentials Gift Card is always the right size.
As a business owner, I understand how easy it is to pop open the computer, search for a particular item, find it and buy it.  BADA BOOM….BADA BING!  Buying some things on line is safe, accurate and fast.  Purchasing any type of intimate apparel through the internet may not be a sound decision unless you have already had a personal bra fitting and know the exact size and style of bra or shaper you need.  At Bare Essentials, the personal profile we created in our system keeps track of your purchases, what size and color was bought and when the sale was completed.  Our established customers are able to call our shop directly, place an order for the bra, shaper or other undergarment they need.
Since we have your size and preference in our system, we can pull the item from the floor or place a special order if needed.  Your credit card information is verified and the item(s) shipped directly to you at NO CHARGE.  You have the best of both worlds:  The ease of shopping without leaving your home with the assurance that you will receive the correct size and style of bra for you. Because you've already enjoyed a fitting session in our shop we will be happy to accommodate any future purchase by phone.  We've made it easy to look fabulous "underneath it all".  Our website is WWW.MYBARESHOP.COM
www.mybareshop.com
Fittings:
Mon-Sat 10-6, Wed 10-8
Visit my new website at www.mybareshop.com