Frustrated By Wearing Reading Glasses?
|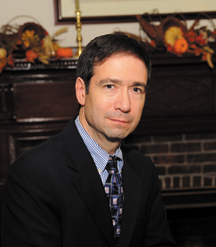 By  Jeffrey B. Minkovitz, M.D.
In March, 2004, the U.S. Food and Drug Admini-stration approved the use of a procedure called conductive keratoplasty (CK) to correct presbyopia, the age related process in which the eye loses the ability to focus on near objects. CK has been performed outside of the United States for over ten years and had been under investigation here for several years before its FDA approval. Presbyopia affects everyone at some point, usually beyond age 42-45. People over this age require reading glasses for the most common daily tasks; including reading, shopping, and, for some, even seeing one's food clearly when eating. People who are nearsighted, and need glasses for most distance tasks, must either remove their glasses or use bifocals to read. The strong desire of aging baby boomers (tens of millions in the United States) to rid themselves of "granny glasses" drove innovation, and finally we have a new technology which addresses this dilemma, allowing this group of individuals to reclaim a part of their youth.
The CK procedure takes less than five minutes, is done in the Ophthalmol-ogist's office (using only an anesthetic drop to numb the eye), and creates immediate results. Patients sit up and are given the opportunity to read print which they could not read just before the procedure (though vision continues to fluctuate for approximately one month). The procedure involves the use of a tiny probe, thinner than a human hair, through which radio frequency energy is applied to the front surface of the eye (the cornea) in a circular pattern, reshaping it to bring near objects into focus with little effect on distant focusing (the procedure is performed on only one eye in most cases).
Shortly after CK's approval by the FDA, recognizing the outstanding safety and efficacy data, I incorporated CK into my practice at Eye Physicians and Surgeons in Wilmington, Delaware and now have become a physician educator, teaching CK to surgeons from around the country. After over five years of treatments, I am impressed with the excellent results produced by this technology. In fact, recent advances in the technique (called light touch) have been shown in the literature (and corroborated by my results) to produce more effective and predictable results (beyond what was reported to be the safest ophthalmic device yet to pass FDA scrutiny). Published reports show 97% of patients reading print smaller than typical magazine print, up from 91% with the original technique.
As a provider of LASIK laser vision correction for nearsightedness, farsightedness, and astigmatism, as well as a corneal transplant and cataract surgeon, I welcomed this new technology, and was proud to bring it to Delaware.
I remain enthusiastic about the results, and have personally enjoyed seeing several of my patients at meetings or in restaurants standing out among their peers as unique in reading without reading glasses. It was gratifying to see the dramatic impact in lifestyle.
Jeffrey B. Minkovitz, M.D., is with Eye Physicians and Surgeons, P.A., 1207 North Scott Street, Wilmington, DE 19806. Dr. Minkovitz is affiliated with Christiana Care, Wilmington, DE and The Center for Advanced Surgical Arts, Wilmington, DE. Dr. Minkovitz served as an Assistant Professor with Johns Hopkins University from 1998-2004. He received his M.D. in 1990, University of Massachusetts Medical School; and his B.A., Magna Cum Laude, Harvard University in 1986. Dr. Minkovitz received his certification in 1996 with the American Board of Ophthalmology and in 1991 received certification with the National Board of Medical Examiners. For six consecutive years, Dr. Minkovitz was awarded the distinction of "Top Doc" for excellence in the field of Ophthalmology in a survey of his peers. Dr. Minkovitz is a highly accomplished surgeon with over 13 years experience. Dr. Minkovitz  is fellowship trained in cornea, cataract, and refractive surgery. As one of Delaware's leading cataract surgeons, Dr. Minkovitz offers both ReStor™ and Crystalens® to his patients.

For further information or to schedule an appointment please call 302-656-2020 extension 1.
"New advances in the CK technique, called light touch, produce more effective and predictable results."
CK® Testimonial…
It finally occurred to me what has been missing during the last 2 days. Since Richard's surgery, he isn't complaining about his inability to read something on the fly without searching for his glasses. He wired 6 recessed lights (NO GLASSES), he read the Sunday paper sections A & B and menus (NO GLASSES), and is using the computer (NO GLASSES). I suppose for Richard, needing to look for glasses when he wanted to see something, has been the hardest adjustment of becoming older. His dependence was so gradual that I never related to why he would get so angry over needing them. My house has been quieter. I now have 2 less things to do everyday: find the glasses and make sure they were clean!