For The Love Of Flowers
|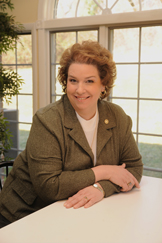 By Barbara P.G. Williams, Co-owner of Belak Flowers
No matter how extravagant or simple a wedding is, the bride and groom are usually working within a budget. The Flower Factor is merely one of the considerations that affect the overall cost of any wedding ceremony and reception.
When you sit down to discuss your vision for your wedding day be sure that your florist knows whether your budget is $900 or $10,000. The venue that you have chosen is an important factor in selecting the size and style of your wedding party's bouquets, corsages, boutonnieres and ceremony pieces as well as the table centerpieces and serving table arrangements. A cathedral will require a larger and more elaborate floral display than a chapel. If the ceremony and reception are held in the same location it is possible for some arrangements to do "double duty."  Consider the ceiling height in both the ceremony and reception locations. A simple, low arrangement may look perfect in a "country inn" atmosphere, but would be insignificant in a large banquet room. Remember that whatever venue you choose you will want the flowers to make a statement.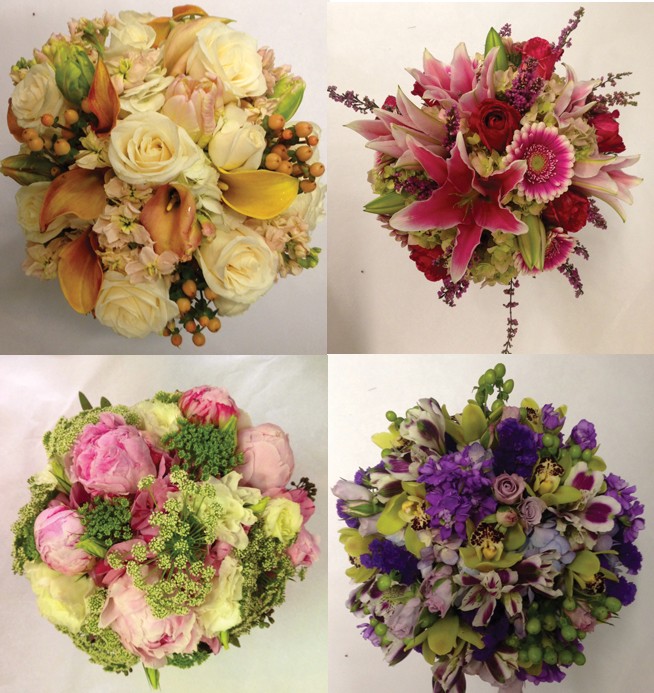 The bride's personal preference in flowers is another major factor. Choosing seasonal flowers means more value for each dollar spent.
Deciding on peonies in April before they are readily available is not a budget-minded decision. Neither is having your heart set on lilies of the valley in October. The season for certain blooms can be quite short and including them in your flower plan means that you will not get them for a budget-friendly price. The size of each bloom naturally affects how many of any particular flower you will need. If you fall in love with stephanotis, with each bloom being less than an inch in diameter, you would need dozens of them to create a normal sized bouquet. The same size bouquet could be created with 3 hydrangea stems or a few open roses.
When flowers are important to you and the selection for both ceremony and reception is a huge priority but your budget is limited, we suggest that you use your favorite blooms in your own bouquet and in the groom's boutonniere. Then, if you wish, they can be used sparingly in your attendant's bouquets, with just a touch reserved for the centerpieces. The flowers used for the altar or pews or even the serving tables at the reception should be in the same color family and theme as the bridal party flowers, but it is not necessary to incorporate the more expensive, favored blooms in these pieces.
For the Love of Flowers
It is possible to be quite budget-minded when your planning allows you to re-use some of the ceremony flowers for the reception. We have designed centerpieces so that they can first be used to decorate the aisles in the church. We have also created pomander balls for the ceremony, which can later be used during the reception. It is also possible to use the bridal attendant's bouquets for head table flowers at the reception and using large ceremony arrangements for the seating card table or in a prominent niche near the dance floor makes great financial sense.
Today there are many venues that provide centerpieces in their "package". If you like what is offered it could be a significant amount that is not subtracted from your flower budget.
Over the years I have learned a few things from the brides that have chosen Belak Flowers for their weddings:
A bride's bouquet should never be larger than her head!  I used to think it had more to do with how embellished the wedding gown was or how tall the bride is.
To some wedding guests the table numbering system at the reception is an indication of the bride or groom's favor. No one wants to sit at Table #18 thinking it is probably back in a corner. Using random high numbers like 102 or 303 or 701 adds a little mystique to the day when guests come to pick up their table numbers!
A final thing to remember if your flower budget is limited: Do not decorate spaces that will not be photographed. It is unlikely that all 12 of the stained glass windows in the church will be included in the wedding album.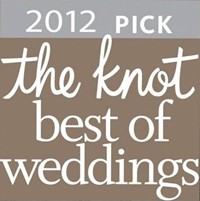 Belak Flowers
Where Your Vision Comes Into Bloom
since 1954
302-762-5000
888-762-8877
832 Philadelphia Pike
Wilmington,  DE  19809
established wedding specialist free personal  consultation with Barb all budgets possible evening appointments available