First Marking Period – A Time for Reflection
|
The end of the first marking period is the perfect time
for parent and child alike to take stock of
academic performance for the new school year.
The past nine weeks have been a time of tremendous change and adjustment for your child. Summer vacation is over. The days are getting shorter. It is a time of new faces, new classes, and new challenges.
For many students, the challenges of the new school year can be overwhelming. This is often reflected in the first report card of the new year.
If you are unhappy with your child's report card,
consider the following:
1.    Help your child get back in a school mindset. Make sure there is a set time for homework each night and a quiet place to study.
2.    Set expectations with your child. Let your child know that you care about his or her schoolwork and you expect an effort to be made.
3.    Be sure to attend back to school nights. Meet your child's teachers and learn about the subject matter, upcoming assignments, and their assessments of your child's work.
4.    Attend Parent-Teacher conferences, as these meetings are one of the most valuable tools available to parents. You can learn very specifically how your child is doing in school, including any learning or other problems you may not be aware of.
For some students, the problems of the new school year
are a continuation of last year's problems.
Don't be fooled by the illusion that a fresh start into a new school year with a backpack full of new school supplies will solve last year's problems.
Call Huntington for help!
We can develop a customized learning program
that addresses and corrects the root cause
of your child's academic difficulties.
Hear what parents are saying about Huntington
•   "Huntington really finds what works for the individual child. Conventional subject tutoring never seemed to reach the problem. Nick loved coming here because he felt supported and he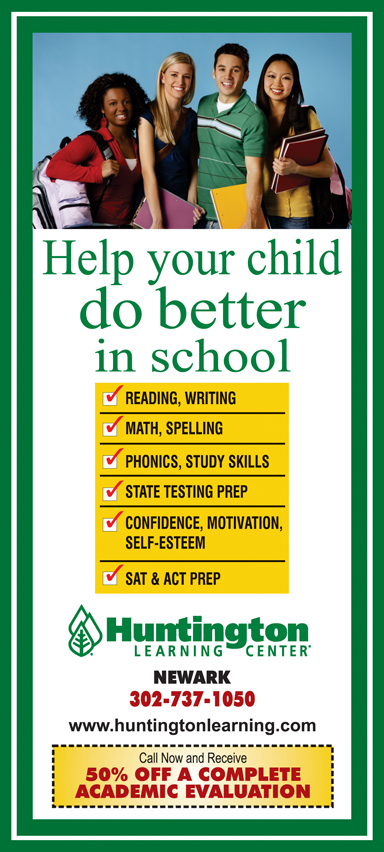 loved the sense
of accomplishment he gained."     ~ Maria C.
•   "I want to thank you all for helping Eric. Seeing Eric's reading level, and academic level, continue to improve and excel is just amazing! His confidence and attitude has also improved. He came home and opened his report card and was excited to see the remarks and he said, "Huntington is Paying Off". Thanks again."     ~ Linda P.

•   "My son's SAT score was way beyond our expectations! We were very happy with the experience we had at Huntington.
We can't thank you enough for all that you've done to prepare our son for college and beyond."      ~ Deborah A.
•   "I would recommend your program without hesitation. There is no way Katie would have improved and received the score she got without the direction and instruction of the wonderful Huntington Learning Center teachers. We attribute her numerous scholarship offers to her increased SAT score."      ~ Marybeth R.
Founded in 1977, Huntington Learning Center has offered supplemental education services longer than any other provider. Parents often contact Huntington when they receive a particularly alarming report card or other communication saying their child is falling behind. Many also reach out to Huntington because they are concerned their child may have poor study skills, or difficulty in performing to grade level in reading and math.
Maggie Lage is the Executive Director of the Huntington Learning Center in Newark, 34 Liberty Plaza, Kirkwood Highway, Newark, DE  19711.
For more information or to schedule a consultation at the Newark location call 302-737-1150 or visit www.newark.huntingtonlearning.com.