Figuring Out What Women Want… Hint: Its all about enhanced livability and style!
|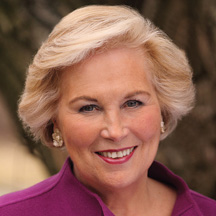 By Rita Wilkins
The 2000 movie "What A Woman Wants" featured a chauvinistic executive who gained the ability to hear what women are really thinking with comedic results. It may seem like a huge leap to compare a romantic comedy to the home building industry, but knowing "what women want"
is having an impact on today's housing market.
Did you know that women are the sole or primary decision makers in 91% of new home purchases? Historically, though, most home building contractors and tradespeople are men. However, as a female home buyer imagine that your builder "gets you", knows what you are thinking and speaks your language. He offers plan designs that are based on who you are and how you want your home to feel. You can choose products and materials that mirror your home design personality.
Known as "Women-Centric", this simple—yet profound—approach recognizes that women and men view the home's design and home building projects differently. A "Women-Centric" approach, derived from a decade of research into women's preferences in the home, innovation in home design, products and other amenities, helps clients make wise, informed decisions. The "Women-Centric" approach understands how a woman looks at a home and how she determines if a house is truly livable. The women talk and the builder listens and asks questions. It is this interaction that results in a home that truly reflects what a woman wants and needs in her living space.
"Women-Centric" homes revolve around four main themes:
•  Relaxation
•  Organization
•  Flexibility, and
•  Entertainment
Just a few of the more popular additions include:
• Open floor plans better suited for family
gatherings with trim and architectural details to define spaces
• Hair dryer-ready drawers (plug included) and 360-degree mirrors in the bath
• Walk-in pantries
• Drop zones for groceries with cubbies for mail,
cell phones and keys
• Enclosed gift wrapping stations
• Locating laundry room closer to the bedrooms • Concealed storage in bathroom walls
• Mudrooms with storage for bookbags, coats,
shoes and boots
With a new understanding and appreciation for women's preferences selected for the home, everyone (even men!) can benefit from innovative solutions for enhanced livability and style.
More than just a pretty space
Two examples above of Design Services Ltd. projects that use a Women Centric design approach.
Panoramic view of kitchen that is open to family room with ceiling detail and architectural elements helping to define space.
A spa-like bathroom complete with waterfall elevates an ordinary master bath to a relaxing retreat.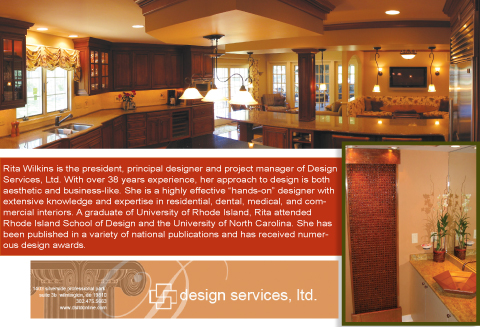 Design Services Ltd
1403 Silverside Professional Park
Wilmington, DE 19810
302-475-5663
www.dsltdonline.com