Fibroids
|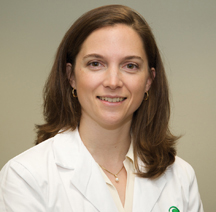 By Gretchen Makai, M.D.
Fibroids are non-cancerous (benign) tumors of the uterus. While many reproductive-age women have uterine fibroids, less than half of these women are symptomatic. Still, hundreds of thousands of doctors' visits each year are attributed to uterine fibroids and the problems they cause, and more than 600,000 hysterectomies are performed each year in the U.S. as a treatment for fibroids.
Numerous studies have tried to determine who gets fibroid tumors and why. They tend to run in families, and black women are more likely to have fibroids than white women. In addition, black women may develop symptoms earlier than others, and grow more and larger fibroids than others. While there are some associations between foods and fibroid development, these tumors are not easily preventable or avoidable with lifestyle changes alone.
Fibroids develop from the muscle cells in the uterus – each tumor growing from one muscle cell which starts to grow abnormally. For this reason, these tumors usually take a while to grow to a large size. They are hormonally-sensitive tumors, and may continue to grow while a woman is menstruating, They tend to shrink at the time of menopause. Fibroids are not cancerous, and they are highly unlikely to turn into cancer.
The size, number and location of uterine fibroids affect the symptoms women have as well as their treatment options. Common symptoms caused by fibroids include abnormal uterine bleeding, pain and pelvic pressure, bladder and bowel problems (if large enough), and fertility-associated problems. Along with a pelvic exam, pelvic ultrasound, MRI and office hysteroscopy are common ways for doctors to exam fibroids.
While many fibroids may never be noticed by a woman and warrant no treatment, there are many medical and surgical treatment options for women who do have symptoms. Those options range from hormonal treatments, to anti-bleeding medications, to pain control options . Many minimally-invasive surgical treatments are available to women as well, and special consideration is given to women wishing to have children after fibroid treatment. No medical regimens are currently available to "cure" fibroids.
Hysteroscopy, or looking in the uterus with a camera, is often important for diagnosis and treatment of submucosal fibroids (those in the lining of the uterus). Hysteroscopy can be performed in the doctor's office, where women can find out immediately if they have fibroids in the lining of the uterus. This information is helpful for determining whether hysteroscopic myomectomy (removing fibroids through the cervix, without any "incisions" in the vagina or the uterus or skin), is a treatment option Laparoscopic myomectomy and robotically-assisted laparoscopic myomectomy are procedures whereby uterine fibroids can be removed through small incisions in the abdomen. Women who are candidates for these procedures may desire to preserve fertility, preserve the uterus, and these who have relatively few fibroids. Large fibroids can often be removed this way as well. Using these small incisions, women have less pain, and are more likely to return to normal activities sooner.
Other surgical procedures targeting symptoms of fibroids include endometrial ablation (burning the lining of the uterus to reduce bleeding), uterine artery or fibroid embolization (to decrease bleeding and fibroid size), abdominal myomectomy (to preserve the uterus when there are many fibroids), and hysterectomy (removing the muscle of the uterus and the fibroids, to both treat symptoms and prevent new fibroid growth). All of these procedures are common and successfully treat fibroids.
Women with fibroids can become more informed by searching for fibroid at http://www.christianacare.org/healthencyclopedia or looking through patient information www.acog.org, and as always, by visiting with a skilled clinician.
Gretchen Makai, M.D., is a gynecologist and Director of Minimally-Invasive Gynecologic Surgery for Christiana Care's Department of Obstetrics and Gynecology. Dr. Makai earned her medical degree from Columbia University College of Physicians and Surgeons, where she won the Thomas F. Cook Prize for Excellence in Obstetrics and Gynecology. She completed her residency in Obstetrics and Gynecology at the combined program between Brigham and Women's and Massachusetts General Hospitals in Boston, Mass. After residency, Dr. Makai completed a Fellowship in Gynecologic Endoscopy at Newton-Wellesley Hospital in Newton, Mass.
The Christiana Care Center for Women's Health provides a select group of women's health specialist focused on gynecologic issues that may become more complex for women beyond their child bearing years – conditions that can often only be addressed by special consultation, advanced treatment or surgery. The Center for Women's Health is located at 3706 Kennett Pike in Greenville. For more information or to schedule an appointment, call 302-623-6320