Escape The Freezer And Head To The Beach!
|
Swimwear For Fun In The Sun!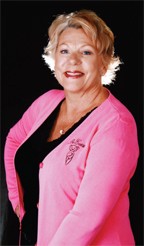 By Debbie Esslinger, Owner
You know Bare Essentials Boutique for our bra fitting expertise and large selection of bras and shapewear.  You might be surprised to learn we also offer bra fitting swimwear.  We specialize in bra sized suits starting in D cup up to J cup.  These swimsuits are made by bra manufacturers who understand how to make a swimsuit that will support and flatter your figure.  Our goal is to educate women on how to buy the perfect swimsuit, enhance those curves and give you lift where it counts the most.  Good bust support is an issue for all women, young or old, especially if your bra cup size is a D or above.  Our swimsuits are made with underwire in the cup for the ultimate lift.  We fit according to you bust size not your dress size.  Our bottoms are available in a variety of styles to best compliment your figure.  The bottoms range from bikini to the new retro, high waist brief.
With winter bringing record low temperatures, we are seeing a boost in customers who are planning early vacations.  Many of these clients already have a week planned and are calling their local travel agents saying, "Get me the heck out of here."  If you are planning a cruise or resort vacation, here are some swimwear trends you will find appealing.  Let's break it down into 3 main activities.
Sunning
A resort vacation is a quick getaway to soak up some sun.  Sitting by the pool or relaxing on the beach calls for a bikini that pushes the envelope with bold colors and sexy styling.  Pick a style that flatters your body and don't be afraid to wear a bright print or bold stripe.  Our hot pink and sultry bikini or tankini with gorgeous crochet detailing is a must for your place in the sun.
Out & About
Modern travelers are doing adventure vacations or cruising with friends and family.  A great suit that offers function is a must.  The suit should be able to be worn easily with a matching cover-up.  All you need is a great pair of shorts or capris to create an outfit!  A colorful print actually hides the look of your tummy, waist and hips because it camouflages those areas.  The eye is actually drawn to the flow of the print and not to the body shape, especially in a tankini.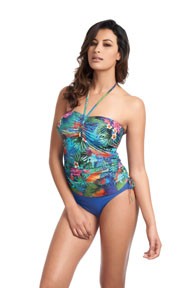 Happy Hour 
Most cruise ships and resorts offer happy hour poolside.  Something fashion forward is a must.  Play with gold and silver details and match the suit with a sarong or sheer cover-up.  For the more self-conscious, a great maxi or beach dress that looks fashionable and is wrinkle free will help you feel fabulous.
Selecting the right swimsuit can be nerve wracking and exhausting.   Next to finding a good fitting bra, buying a swimsuit can be even more difficult because you are dealing with your bust, waist, hips, booty and legs.  At Bare Essentials, we try to make this a positive experience by offering suits to the girl or woman who have fuller busts and find it impossible to purchase a swimsuit anywhere.  That is the reason we offer our suits in D to J cup size and 30 to 38 band size.  Customers asked for our help in finding a good fitting swimsuit and we listened to you!  Swimwear began arriving in late January and will continue arriving until mid-May.  We encourage you to glimpse at our swimsuit "look book" of styles still to arrive.  There are a limited number of suits available and sizes sell out quickly.  Buy early and don't be disappointed as most of our swimsuits cannot be reordered.
You know us for our bras and the outstanding customer service we offer.  We will help you select a swimsuit that you will love and look great wearing.
4009 Concord Pike, Wilmington, De 19803
302-477-4888
Fittings:  Mon-Sat 10-6, Wed 10-8
Visit my website at www.mybareshop.com