Emergency Generators: Power When You Need It
|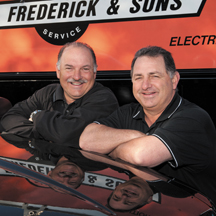 By Brian & Rob Frederick
When the power goes out, it doesn't really matter if the ice cream melts.  (Well, it doesn't matter TOO MUCH!)
But a power failure also could mean that your sump pump quits working and your basement floods, your home business grinds to a halt because you can't run your computer, or your home security system stops working.
An emergency generator can help keep you, your property, and your family safe and comfortable during a power failure, whether it's caused by lightning, an ice storm, a fallen tree branch, a car hitting a utility pole, or high energy demand during heat waves and cold snaps.
At Joseph Frederick & Sons, we know folks typically call us when they need help right away, but we're also in the business of helping you prepare for emergencies.
The time to buy a generator is before the power goes out. When power failures occur, many stores sell out quickly.  Some desperate homeowners become victims of price gouging, or they simply end up buying expensive professional-grade generators with features they don't need.
Contact our sales department to help you determine which generator is right for your home – then our certified technicians call install your generator safely and professionally.
For more information about emergency generators, visit our website at www.jfrederickandsons.com or call us at (302) 994-5786. Don't wait until the power goes out, because, for one thing, it's easier to find the phone number when the lights are working.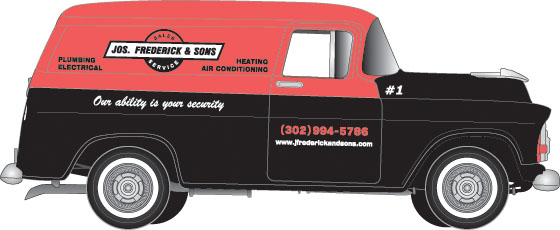 Our Company History…
This year, we at Joseph Frederick & Sons are excited to celebrate our 65th year in business. Our grandfather started this business in 1947 with one truck, a willingness to work hard, and a sense of integrity. Today, four generations later, we are proud to say that the name Joseph Frederick & Sons means the best in residential and commercial air conditioning, electrical systems, heating, and plumbing. The core values on which our family's business was first built remain its cornerstone – our sense of integrity, dependability, and quality workmanship has withstood the test of time. We are a proud member of the BBB and past winners of their Torch and Rush awards. We are also a Carrier Factory Authorized Dealer and 3-time winner of their prestigious President's Award.
Our Employees…
Our service technicians, sales department, and customer service representatives are a part of our family, sharing our family values and high standards of quality. We are confident and willing to place a warranty on all of our work and products, all of the time, no matter what. We employ NATE-certified installation and service technicians, which means we provide our customers with the very best service possible.
Our Customer Assurance Plan…
Our Customer Assurance Plan helps keep your HVAC equipment running smoothly and efficiently all year long.  Be safe, rather than sorry – detect problems in your equipment before they compromise your comfort or your checkbook. Sign up for our Customer Assurance Plan and enjoy annual checkups of your HVAC units, discounted rates on all your service calls, and priority status for faster service in emergencies.
Our Bath & Kitchen Renovation Department…
Great kitchens and bathrooms are more than just pretty cabinets and nice color combinations. To create a truly great kitchen or bathroom, the plumbing, air flow, and electrical planning must be part of the initial design process, rather than being shoehorned in at the end.  That's why Joseph Frederick & Sons is the company to call when it's time to remodel your kitchen or bathroom. With more than 65 years of expertise in heating, cooling, plumbing, and electrical services, we work with you every step of the way, from design through installation, so your new kitchen or bathroom will be well-made both inside and out. We work with top-quality suppliers to ensure that you get the very best cabinets, fixtures, and flooring. To set up a free consultation, contact us today.
Our $50 Referral Program…
Tell a friend about Joseph Frederick & Sons for their next purchase of heating, cooling, or plumbing equipment, and you could receive a $50 American Express gift card. If your friend makes a purchase from us and gives your name and address to our salesman, we'll send you the gift card. Refer two friends and receive two gift cards – it's the referral/gift that keeps on giving!
Our Testimonials…
We could not be happier with the knowledgeable, friendly and prompt staff at Joseph Frederick & Sons. They installed several A/C compressors. They took the worry and uncertainty out of our large project and made it a manageable and pain-free experience.  We have definitely been won over to your company!  ~ Customer from Greenville, DE
Joseph Frederick and Sons fixed our plumbing problem that has plagued us for 10 years. The basement is finally dry!  Thanks so much!
~ Customer from Wilmington, DE
Joseph Frederick and Sons has quality service and professional crews (always pleasant). They are very competent and informative…
and always efficient!  We and our checkbook love the company!     ~ Customer from Newark, DE
Contact us…
Thank you for considering Joseph Frederick & Sons for your home's air conditioning, electrical, heating, plumbing, and bath & kitchen remodeling needs.
We are located at 810 Stanton Road in the Marshallton area of Wilmington, Delaware. Business hours are 7:30am – 4:30pm with 24 Hour Emergency Service. Visit us today at our website, www.jfrederickandsons.com, check us out on Facebook, or contact us at (302) 994-5786. We look forward to serving you!