Downtown Holiday Happenings – The Holiday Season In Downtown Wilmington Is In Full Swing
|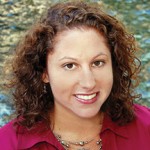 By: Christine E. Serio
Director of Marketing and Public Relations
Wilmington Renaissance Corporation
Tis the holiday season once again and Downtown Wilmington is dressed the part for the month of December.  Wilmington Renaissance Corporation (WRC) and its partners have worked together to enhance the festive feel of downtown, bring more holiday cheer to Market Street and make shopping easier.
WRC teamed up with the artistic students at Delaware College of Art and Design (DCAD) and Market Street merchants for part of the festive fun.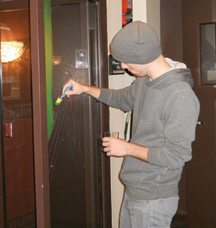 The DCAD students were paired with various merchants along Market Street to create holiday and seasonal scenes on the storefronts.  The paintings range from wreaths, reindeer and Christmas trees to winter scenes of snowmen, skiing and ice skating.
Another addition to merchant storefronts is adding to the holiday cheer as well.  WRC worked with local schools to coordinate a Gingerbread House Contest.  Nine schools created 21 gingerbread houses that are located in storefronts and eateries along Market Street. People can walk along the Gingerbread Lane and vote on their favorite houses.
The winning gingerbread houses will win a prize for the most popular public vote.  In addition, celebrity judges Dana Herbert of Cake Boss and Jennifer Behm of MasterChef will visit each of the gingerbread houses on Saturday, Dec. 17.  The winners of the public vote and the celebrity judges' vote will be revealed at 2 p.m. that day in the Copeland Room above the Delaware History Museum.  A full list of gingerbread house locations is available at www.downtownwilmington.com.
If you are looking to avoid the malls for shopping and Santa, downtown has your answer as well.  Santa Claus will be at the Delaware History Museum (504 N. Market St.) from 11 a.m. to 2 p.m. on Saturday, Dec. 3, Dec. 10 and Dec. 17.  Parents are welcome to bring their own cameras to capture the memories or provide an email address for pictures to be sent to them.
The "IN" discount card will make shopping even nicer in downtown Wilmington.  Participating merchants will give a deal or discount to anyone who presents an "IN" card.  The cards can be picked up at the merchants or the WRC office (100 W. 10th St., Suite 206).  A full list of participating merchants is located at www.downtownwilmington.com. (See the sidebar for gift ideas in the downtown!).
Parking during the holiday season is a breeze as well.  In addition to numerous parking garages and lots, parking meters are free after noon from Nov. 26 to Dec. 31.  Parkers must adhere to parking time limits at the spaces (the majority are two hour limits).
The hustle and bustle of the holiday season doesn't have to be a hassle.  The festive atmosphere of Downtown Wilmington is sure to get everyone in the spirit!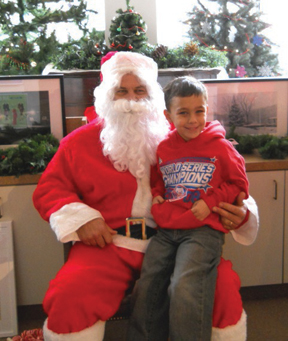 10 Gift Ideas You Can get in Downtown Wilmington (in no particular order)
Men's Attire – Downtown has Collars N' Cuffs, Wright & Simon, SneakerVilla, and Dimensions & Co. which carry a variety of men's attire from ties, suites and dress shirts to casual wear, jackets and hats. And personalize a shirt at Space Boy on the 600 Block of Market Street.
Sporting Goods – Al's Sporting Goods at 2nd and Market Sts. has been offering quality sports gear (from bocce sets and golf clubs to softball and basketball equipment) for decades.
Gift Certificates – Not sure what to get for the person who has everything? Downtown has dozens of hot restaurants, many performance venues, and numerous museums that all offer gift certificates.
Jewelry or Watches – A new necklace, earrings, ring, bracelet or watch goes a long way for the holidays.  A.R. Morris and Gold Bug on Market Street can help you find the perfect gift.
Hangbags or accessories – Ladies know a great handbag or new accessory can make
or break an outfit.  Luckily, downtown has fantastic places to find the right gift at NOSO Boutique, Nzinga's Cultural Connection, or Designs by Keiko.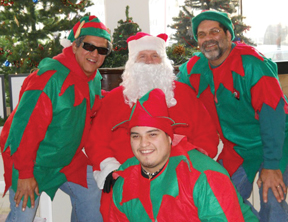 Sweet Treats – Need a great gift for the sweets lover in your life?  Govato's at 7th and Market Sts. has an amazing selection of chocolates and sweet treats.
Books – Books are a great option for children and adults alike. Ninth Street Book Store and Sunlight Bookstore, both on 9th St., are great options for the readers on your guest list.
Stocking Stuffers – Many stores along Market Street, offer great options for stocking stuffers.  You can grab everything from gloves, curling irons and chapstick to earrings, candy canes, and socks.
Car stereo – Hi Sound on the 500 block of Market Street will help you find the perfect sound system and accessories for anyone's car.
Art Lessons and Instruments – David Bromberg's Violin store at 5th and Market St. has gifts for music lovers and the Delaware College of Art and Design (DCAD) and Christina Cultural Arts Center (CCAC) both offer artistic classes and workshops.
For more information
visit www.downtownwilmington.com