Don't Eat The Snickers Bar. Discover The Secret Of Your Missing Drive.
|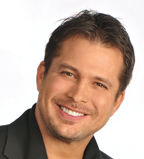 By: Joe White
President and Founder of Get Life Coaching
2008 Entrepreneurial Advocate of the Year
One day I was driving home from a long day at work, and I was starving.
I have this habit of "forgetting" to eat.
I know it's not the best thing for me, but my schedule gets so crazy, it just happens. So as I was heading home, I saw a 7-11 coming up on my right hand side. I thought of grabbing a snack, but I had just gone food shopping, and I have some good healthy choices at home.
The more I thought about it, the hungrier I got, and the hungrier I became, the more desperate I felt. So at the last minute, I pulled in and went right for the healthiest choice I could see, Snickers! Since I convinced myself I was starving to death, I chose the King Size Snickers to hold me over. About 10 minutes down the road, the belly ache came, and by the time I made it home, I was no longer hungry. Unfortunately, we do the same thing in our lives. We fill ourselves with junk and then wonder why we are not hungry.
We will NEVER be hungry for what we want as long as we are
consistently filling ourselves with what we don't want.
Somewhere along the line, we have come to believe that "being hungry" is a bad thing. We label it as if we are feeling empty, not enough, deprived… and we then feel the compulsion to immediately take action to fill the void. We grab whatever is quick and easy. Gone is hungry, and gone is our drive.
We must see that "hunger" is a gift, an opportunity, that is here to serve us and to drive us. Being hungry gives us drive. It is when we feel unsatisfied that we reach deeper and push harder. We can not allow the "conditioned" negative associations to cause a knee-jerk reaction to fill the void instantaneously. Remember… hunger IS drive!
As radically different as we are, we are all wired the same.
We all have a need for comfort, for certainty. It is almost like a gravitational pull. We don't have to do anything to be affected by it, but we have to consistently do something to defy it. Think of it like sitting. You must defy gravity to sit. If you were to pass out, you would fall over. Certainty is the same. That is why it is so easy to become comfortable, even when it fails to serve us.
We are also wired to grow. In nature, whatever does not grow, dies, and so will we – at least emotionally. The catch is here: the more we grow the less certain we feel. This triggers an even deeper desire for certainty. Do you see the conundrum? We grow by consistently defying the pull of certainty and comfort, and being filled feels mighty comforting.
So don't eat the Snickers bar.
Don't settle for fast food.
Don't settle for comfort.
Don't settle for anything that takes away your hunger to grow. It is the fuel needed to create the life of your deepest desires.
Until next edition, I wish you love and passion! – Live Free
Testimonial:
Joe White and his team teach and coach with a completely different approach than any other coaches or consultants I have used in our 25-year history. The difference is that they are effective from the first session on. Get Life Coaching gets to the core of the issues, correctly alters the mindset of the participants, and moves forward versus looking in the past. We continue to use Get Life Coaching as we grow and change as a company.
~ Beverly Stewart, M.Ed., Hall of Fame of Delaware Women Award Winner. President/Director Back to Basics Learning Dynamics, Inc.
www.facebook.com/getlifecoaching
www.twitter.com/getlifecoaching