Does Cosmetic Dentistry Have To Be Expensive?
|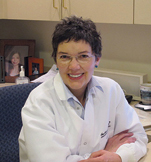 By Anna Marie Mazoch, D.D. S
Although cosmetic dentistry can involve thousands of dollars of investment, there are often simple and inexpensive ways to a more beautiful and healthy smile. My first case is Mrs. A. P., whose upper left lateral incisor tooth is much smaller than normal. The spaces surrounding the tooth were filled with a composite resin. Resin is a type of plastic that is molded onto the tooth like putty.  It is set and hardened with a very strong curing light. Her procedure required no anesthesia (no lidocaine or novocaine). The fee for this process is half of a porcelain veneer fee and can often last for many years.

Subtle changes to the shape of teeth can often make a difference in the look of a smile. This next example, for Mrs. Terry H., combined shaving and reshaping certain areas of a few teeth as well as three bondings. Her second photo shows the extent of rather severe crowding while the final photo illustrates how a few simple procedures can have such a pleasing result.
Another relatively inexpensive way to achieve a more attractive smile is by "whitening" or "bleaching". We provide in-office whitening with take-home, custom fit trays to prolong the effect of the whitening process. Just in time for Valentine's Day, our office is offering a $100 off sale price for the month of February.* We also now offer Opalescensce Tres White Supreme, a professional strength and professionally controlled, moldable whitening tray system. Although this tray is self forming, rather than custom fit, it offers a more powerful whitening agent, 11.2 % hydrogen peroxide, than Crest White Strips at a comparable cost of $47.  Plus, we provide the reassurance of guidance and advice that products bought over the counter do not furnish.
My final example of a simple way to a beautiful smile is to keep your smile, as well as your body, healthy.  Were you aware that patients who don't have their teeth cleaned regularly are 24 % more likely to have a heart attack and 13% more likely to have a stroke?  Twice daily brushing with a sonic tooth brush, once daily flossing (or use of an interdental device such as a soft-pik, stimudent or water-pik) will prevent unsightly cavities, yellow teeth and red gums. Professional cleanings remove odor causing tartar and help to keep your gums from bleeding. An oral evaluation in our office provides more than just a quick check for cavities. Your teeth and tissues will be thoroughly examined to determine the best treatment for your particular situation. We take the time to screen for life threatening oral cancer and use a Velscope light to enhance this examination if you so desire. Prevention of oral health problems is our primary goal so we recommend various devices and/or medicaments for our patients' use.  Education about the care of your mouth is the key to prevention so we ensure that you understand and are able to perform the procedures necessary for optimal oral health.  And PREVENTION (meticulous daily home care and regular professional cleanings and exams) results in the least expensive dental treatment of all, i.e., none.
Why not fulfill that New Year's resolution and pick up the phone to schedule your overdue dental appointment today?
*To receive whitening procedures a recent full series of x-rays plus examination for cavities or a written release from your existing dentist is required.
Testimonial:
From the first time I visited Dr. Mazoch I felt comfortable with her. I had not been to a dentist in many years and Dr. Mazoch and her staff made me feel very welcomed. I knew I was going to need a lot of dental treatments. After much needed work I am more confident about my smile. In the past I never wanted to smile for photos but that has changed. Having these treatments has changed the way I feel about myself. It has been a wonderful experience and I would recommend Dr. Mazoch to family and friends. ~ T. Hopkins
Dr. Anna Marie Mazoch received her B.S. degree in Biology, summa cum laude, from Ohio University and her D.D.S. from Northwestern University. She is a member of the American Dental Association, the Delaware State Dental Society and several local dental study clubs. She has been practicing general dentistry for 32 years, first in Cincinnati, then Montpelier, Vermont, and the past 11 years in Delaware. Her keen interest in continuing education for herself and her staff stems from a quote by G. V. Black, the first dean of Northwestern University Dental School and the father of modern dentistry: "The professional (wo)man has no right to be other than a continuous student".