Creations For The Home And Office
|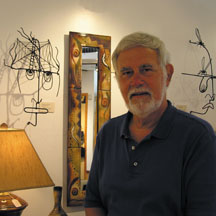 Creations Fine American Craft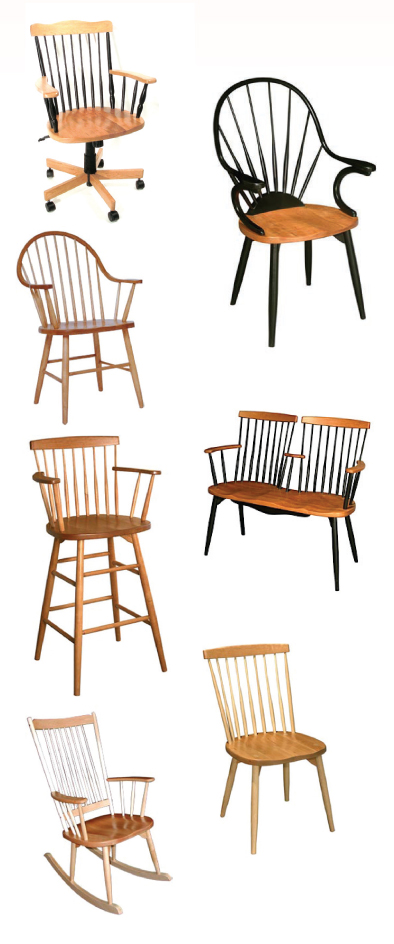 WA Mitchell Fine Furniture Company
Creations Gallery is proud to represent the W.A. Mitchell Fine Furniture Company of Farmington, Maine.  Since it's founding by Arthur Mitchell, a seventh generation Vermonter, the focus of the company has been the design and production of custom bench-made chairs.  The distinctive Mitchell chair design draws its inspiration from two styles that are deeply rooted in our country's history, the Windsor tradition of England and the classic American Shaker design.
These principles guide all Mitchell Company products from their signature chairs, to desks, tables, barstools, benches and other furniture which combined with the exceptional fine tradition of old-world, precision hand artistry, results in furniture to enjoy for a lifetime.
The Mitchell home and office collections blend the finest influences of the Windsor and Shaker styles to create a comfortable elegance that fits any home or office style from contemporary to country, classic to casual. Mitchell craftsmen create every piece by hand using only the finest selectively harvested hardwoods from the forests of Maine and the Eastern U.S. – rich woods such as American black cherry, rock maple, white ash, and red oak. All components are carefully worked to create a wonderfully warm, soft, smooth finish that matures through the years as the unique patina of the wood develops. Many of the home and office chair designs can be customized with standard Sherwin Williams paint colors and, for special occasions, commemorative additions in the form of text or logos can be applied to chair backs. In order to explore the extensive Mitchell furniture collections, come to the gallery where the friendly staff can help find the perfect pieces to complement your home or office.  And, as a W. A. Mitchell "Preferred Gallery", Creations is able to offer their customers price incentives as well.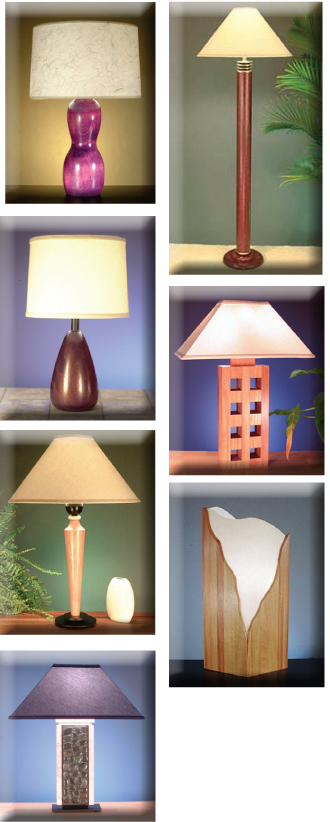 Hand-made hardwood lamps at department store prices!
Master craftsman Patrick Roberts has been creating bench-made table and floor lamps for over thirty years in his Maryland studio located just north of Washington D.C. His extensive portfolio of over 400 designs is now available through Creations Gallery. Styles range from Scandinavian, Arts & Crafts, Transitional and Traditional. Most are fully functional as reading lamps and are supplied with three-way switches to adjust light levels while Robert's unique "soft form" lamps provide wonderfully warm accent lighting. To insure consistent quality, Roberts produces all of his wood components and does all the finishing and assembly in his own studio and takes great care in selecting suppliers for lamp components made outside his facility such as metal parts and lamp shades. Each lamp style is available in a variety of woods and finishes and can be paired with a variety of shade styles and fabrics.  Roberts, a strong advocate of "green" programs, uses domestic hardwoods (cherry, oak, maple, and pine), which come from the Northeast, Vermont to Virginia, and are renewable resources.  He uses FSC certified hardwood suppliers or suppliers who have completed SmartWood's COC audit procedure authorizing them to sell certified wood products in the Pure, Mixed, and Controlled categories. African teak (Iroko) is from Ghana and the Ivory Coast where governments are more stable and care is taken in deforestation.
Patrick Robert's lamps provide a wonderfully affordable compliment to the W.A. Mitchell furniture collections. Stop by Creations and see for yourself!
443 Hockessin Corner
Hockessin, DE 19707
302.235.2310