Come Celebrate With The Spa at Montchanin
|
By:  Aimee M. Moulder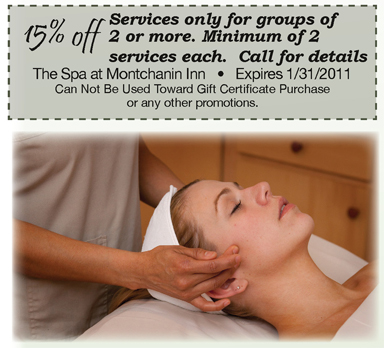 Life is to be celebrated:  birthday, anniversary, new job, sisterhood, rainy day or just because, we have many reasons all of which are equally important.  Come as a couple or as group, whether you come for an hour or the entire day we will create the perfect day of total pampering and relaxation to suit your style and needs.
Close your eyes, take a deep breath, relax your entire body, releasing the stress, and all thoughts that occupy your mind, you are now entering into "The Spa at Montchanin Village",  a peaceful, serene environment filled with wonderful scents that gently lures you in, giving you permission to release all of your stresses.
Imagine yourself in a soft, warm, fluffy robe relaxing in a reclining chair waiting for your day to begin.  First the full body exfoliation, renewing and softening your skin with deliciously scented oils and lotions, then the massage.  What are your needs?  Our professional staff will address your personal needs and desired outcome with an array of modalities such as; Swedish, Hot Stone, Deep Tissue, Therapeutic, Energy work, Aromatherapy, and Foot Reflexology.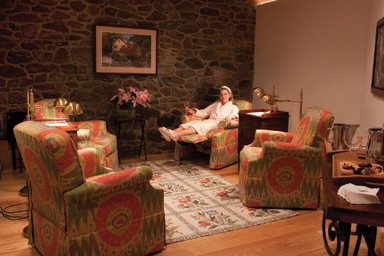 Now that you are relaxed and in a state of well being with no care in the world, it is time to nourish yourself with one of our delicious spa menu offerings; will it be the Roasted Organic Turkey with aged cheddar, smoked bacon, avocado, grape tomato and chipotle vinaigrette or perhaps you would prefer the Smoked Pear and Arugula with goat cheese mousse, port cranberries, pancetta shortbread with pomegranate honey and candied walnuts?  Whatever you choose you will not be disappointed for Krazy Kat's has created the perfect spa lunch menu.
Return to the treatment room for a facial that will bring forth that glowing radiant you, allow our Skin Care Experts to choose the perfect one.  The finishing touch would be to end your day with a manicure or pedicure.  From head to toe you will feel totally pampered, relaxed, renewed and in a peaceful state of well being.
Not ready to leave?  Then return to the relaxation room and allow us to serve hot herbal tea or perhaps you would like to end your day and begin your evening with wine partnered with an assortment of international cheese's and house made garnishes.   However you choose to end your day surely it will be remembered for a long time to come.
The Spa at Montchanin Village is open 7 days a week making everyday a great reason to celebrate while pampering and relaxing.  Call now to create your day.
The Spa at Montchanin Village
GPS: 528 Montchanin Road, Wilmington
302.888.4205 or 800.Cow.Bird
www.montchanin.com