Chic Lounge & Outdoor Space, Along With Happy Hour Specials Make Saketumi A Must Stop At The Beach
|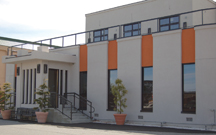 By now, hopefully you have all had the opportunity
to try the spectacular range of specialties at Saketumi in Rehoboth Beach,
off of Route 1. Saketumi, the sister restaurant of Jasmine in Wilmington, is the lower shore's most chic restaurant.
Saketumi offers well-prepared, modern Asian cuisine;
Japanese, Chinese, Thai, and Korean.
As a soup lover, I am always impressed with the spice and freshness of Saketumi's soups. The Thai Spicy Lemongrass Soup with Shrimp is my favorite. With bell

peppers, shitake mushrooms, fine lemongrass and lime, it is a combination of flavors that will thrill your taste buds.
One of my newfound favorites at Saketumi, as well as Jasmine,
is their wonderfully priced Bento Box Specials.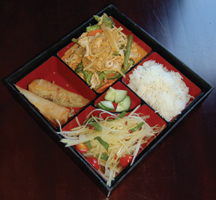 A complete meal that is sure to leave you with plenty of delightful leftovers, these are offered in Thai, Chinese, Korean, or Japanese. The Thai, for instance, starts with Thai soup, followed by a complete divided tray of papaya salad, jasmine rice, spring roll, and Tom Yum Goong. What a delicious selection at a price that will keep you coming back to try all of the varieties.
If you prefer to stick with an entrée, the succulent Braised Korean Shortribs with Kimchee offer a combination of spicy and sweet that play wonderfully off of each other. Another favorite, the Rainbow Roll, has a gorgeous presentation, as does all of Saketumi & Jasmine's sushi. The fresh tuna, salmon, and avocado topped with roe, will make you remember why you crave sushi.
Saketumi offers a fantastic Happy Hour that includes
drink specials from wine, to cocktails, to beer.
The Happy Hour special not only includes a large selection of sushi and vegetable rolls, but also tempting appetizers such as Crispy Crab Wonton. The best part is that everything is priced starting at $1.75 to $5.00 and is offered seven days a week from 4-6 pm. Now that is something you can't afford to pass up in this economy.
An exciting edition to Saketumi that's sure to be a hit
this spring and summer
is the new upstairs Ai Lounge and outdoor area.
What better way to enjoy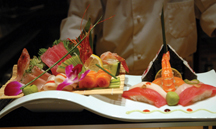 their fantastic martinis such as the Flirtini, complete with raspberry puree and a splash of champagne than on their hip upstairs patio?
So be sure not to miss out on all of these wonderful offerings in the south. Make it a point to experience Saketumi on your next beach trip, because they are so much more than great sushi.