Celebrating 10 years as Delaware's only Compounding only Pharmacy
|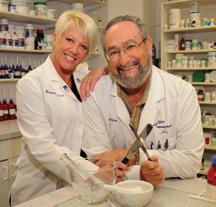 On Monday, October 29, 2001, Calvin Freedman, RPh, FACA ,
and his partner, Brenda Pavlic, CPhT,
opened SaveWay Compounding Pharmacy
in the Old Baltimore Pike Industrial Park in Newark, DE.
Although Calvin owned and operated a full service pharmacy
in New Castle, DE, for 30 years, he saw a need in the community for more
basic prescription services,
by that he means prescription compounding.
What is a compounding pharmacy?
In the case of SaveWay Compounding Pharmacy, it is a licensed pharmacy where all medications are customized formulations prepared specifically for each patient. In other words, SaveWay does not dispense commercially available drugs. Each prescription is prepared on-site with the basic chemical ingredients required by the doctor's order.
Although SaveWay Pharmacy has prepared medications on the order of dermatologists, podiatrists, gastroenterologists, and prescribers in other disciplines, the main focus of its service right now is on Bio-Equivalent Hormone Therapy for men and woman, and in the Veterinary community. As always, the pharmacist is part of the Healthcare Triad. The doctor at one corner and the pharmacist at the other work together in support of the patient who is at the apex of the triangle.
When dealing with a veterinary prescription, SaveWay Compounding Pharmacy has to find the right combination of drug, form, and (if necessary) flavor, so that the patient will readily accept the medication his veterinarian prescribes. "In order to accomplish this," Calvin says, "we've gone back to basics. This is pharmacy the way it was practiced 100 years ago, and we're happy to provide this service for human and animal patients alike."
"It's kind of like cooking from scratch," explains Brenda.
"The doctor determines the appropriate drug therapy, then we figure out the best way to get it into the patient. In the case of a medication for an animal, we've had a lot of success with flavored liquids and transdermal gels. Our most popular concoction is our "Treats" That Treat. We make medicated "Treats," which we can flavor beef, chicken, tuna, liver, salmon, or shrimp. Some of the commercial medications taste so awful that an animal, especially a cat, will not only refuse to take it, but will become alienated from its owner. We've had clients thank us for giving them back their "friend," after switching the animal to the "Treats."
Calvin graduated from Temple Pharmacy School 50 years ago. Although he has always been a member of professional organizations, during the last few years Calvin joined several groups that specifically promote the art and science of compounding, such as the American College of Apothecaries, the American College of Veterinary Pharmacists, the Professional Compounding Center of America, and the International Academy of Compounding Pharmacists. Through these associations he has been able to participate in numerous educational programs to help develop his expertise in compounding. His memberships also provide a vast network of compounding pharmacists who support each other in their goal of providing quality care for their patients.
"Brenda is a Nationally Certified Pharmacy Technician with extensive training in pharmacy compounding,"says Calvin, "She has worked with me for more than 28 years." Whether our patient is human or animal, Brenda and I will draw upon years of experience and education to best serve the prescription compounding needs of the patient and the doctor. I like to say that we offer the physician and the patient options." "… And remember," he adds, "we're only as far as your telephone." (My wife, Carol, makes me say that.)
SaveWay
Compounding Pharmacy
31 Albe Drive; Unit 1
Newark, DE  19702
Ph. (302)369-5520
[email protected]
www.savewaypharmacy.com
Hours:  M-F 9am—6pm
Sat 10am—2pm
Closed Sunday