Can One-of-a-kind Jewelry Be For Everyone?
|
Ern Angiolillo, Owner
Article By:
Toni Renée Leslie
Is there anything that creates more longing and envy
amongst girl friends than a new piece of jewelry?
Perhaps it is that all important engagement ring, or a tiny ruby encrusted heart pendant, or even (these days) an amazing sterling silver cuff bracelet that you treated yourself to after a big job promotion.
But when the jewel of mention is truly important,
a one-of-a-kind, custom design is the only way to go.
A perfect piece of jewelry that was designed especially for you, is sure to incite envy and lust for decades! Most people believe that custom designed jewelry is reserved for the "Brad and Angelina's" of the world, an experience that is totally out of their reach. We all read how thi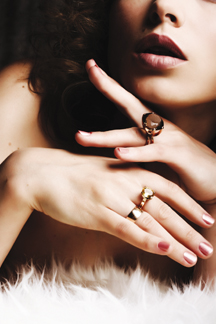 s celebrity and that, created a one-of-kind ring, necklace, bracelet alongside a famous jeweler. But the truth is custom designed jewelry can often be just as affordable as buying something straight from your jeweler's showcase and yes, one-of-a-kind jewelry can be for everyone.
At Erncol Jewelry Shoppe,
located at 4007 Concord Pike (at Silverside Road),
owner Ernie Angiolillo is a seasoned professional
at creating custom jewelry at nearly every price point.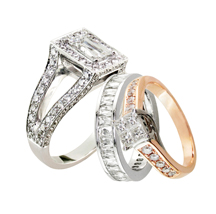 "The process of creating a custom design can be as simple as a customer bringing in their grandmother's wedding band and having three small diamond pendants created from that ring to give to each of her daughter's", says Angiolillio. "Simultaneously, a one-of-a-kind design can be a very involved process – a customer may come in with an idea that we begin to explore through sketches, photos, and catalogs. As I begin to have a clear picture of what we are creating, we discuss budget and take the next step to getting a perfected rendering. Once the customer approves the drawing, we move onto choosing gemstones and begin production," states Angiolillo.
Many jewelry stores aren't interested in the extra effort
it takes to create custom designed pieces.
It often requires a great deal of time to interpret a customer's thoughts into a finished piece of jew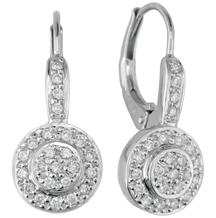 elry and most would rather steer their customer to something that is ready to ring and wrap-up. However, custom design has been a long-standing service at Erncol Jewelry Shoppe and Ern feels just as comfortable "creating" someone's perfect ring as he does wrapping one up from the unique selection in his showcase.
Recent engagement ring customer, M. Weinberg found a ring at Erncol that was "almost" perfect, so together with Angiolillo they took the necessary steps to customize and create exactly what he and his soon-to-be fiancée were dreaming of. "The process took a little longer but was well worth the wait in the end. Ernie made what would have been a very stressful and frustrating situation, painless and actually enjoyable. He kept in co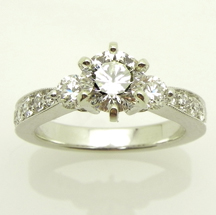 nstant contact with me about the progress of the ring's completion, so I could plan the perfect proposal. My fiancée and I were both very happy,"
said Weinberg.
Where to start? Angiolillo says that if you are interested in creating something custom for yourself or a loved one, come with as much information as possible. Visuals, be they images torn from a magazine or photos saved on your iPhone are a great place to start and by all means if you are utilizing gemstones from an existing piece bring that as well. "If you need the piece for a certain date, it is never too early to get started, so plan ahead and come early! When you are ready to stop in the shop, make sure you aren't in a rush
and we'll have a great time exploring the possibilities together," say Angiolillo.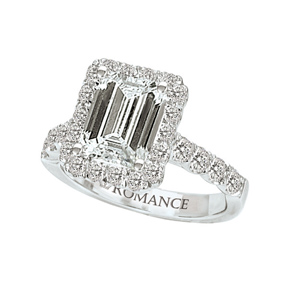 Testimonials:
•  "I took my diamond tennis bracelet to Erncol's for a clasp repair. Not only was it repaired for a very reasonable cost, it was so clean and polished, it looked better than new".     ~ Nancy K.
•  "Thank you for the beautiful bracelet. I was so touched by your kindness and encouragement and your understanding of exactly what I was looking for. Please know that I will wear it proudly in honor of your sister and all of us cancer warriors who continue to fight this disease."     ~ Cindy
•  "Thank you more than you know for being able to deliver the ring I choose for my wife prior to Christmas as promised.  It is absolutely beautiful and she loved it. Thank you again for all your help and expertise. It was invaluable."     ~ Dan
Erncol Jewelry Shoppe is
located at 4007 Concord Pike
(at Silverside Road) and is open Tuesday through Saturday, 10am until 5pm with evening hours upon request.
302.478.5560
www.erncoljewels.com