Can My Smile Be Saved?
|
Sometimes, after years of neglect or lack of finances
or just not knowing what to do,
patients decide  that they want to improve their smile.
Years of wear and tear, missing teeth, bites that are in the wrong position, broken teeth, worn down fillings, gum recession: all of these problems can exist in just one patient's mouth. How do we possibly correct all of these problems?
It starts with a comprehensive examination,
a full series of x-rays, a study of molds of the patient's teeth, photographs, a discussion of the patient's wants and needs, consultations with specialists, and then evolves into a plan for treatment. The planning stage is even more important than the actual procedures. If the plan is solid, then the rest is relatively easy. Multiple treatment options are presented, from ideal to stop-gap measures to phased-in treatment to just fixing the cavities for now.
This is Lisa. Because of a malocclusion (bad bite),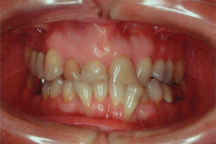 congenitally missing tooth, crowded teeth,
and the need to gain space to restore her upper front teeth,
orthodontic treatment (braces) was required prior to any definitive care from myself.
Of course, her first response was, "I'm too old for braces!" However, after explaining that, nowadays, one out of five orthodontic patients is an adult and that orthodontia would be the best way to optimal oral health, she decided to go for it. Most braces are on for only 12 to 18 months: a short amount of time compared to a lifetime with a not-very-attractive smile.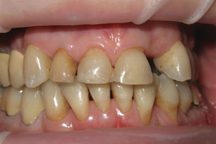 After the braces come off, we go to work. We correct the worn-down lower front teeth with bonding, replace the missing tooth with a bridge,crown the small lateral (side) tooth, and place crowns and veneers on five additional teeth. Her result is quite stunning. Lisa has gone from a small, barely noticeable grin to a broad, beautiful, dynamite smile.  Can't you just see the change in her personality in the "after" photo?
Perhaps you have an unattractive smile. Are braces necessary for your new smile? They probably are not.  But wouldn't you like to know what options are open for you?
Dr. Mazoch resides in Kennett Square with her husband Ed. She is an avid flower gardener and enjoys visiting Longwood Gardens often. She also expresses her interest in beauty, art and color through her oil painting. She keeps healthy by power walking, lifting weights, and practicing yoga and pilates (and, of course, by brushing twice a day with her Sonicare and flossing once a day).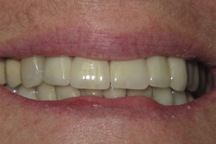 Provisional Restorations (temporaries)
After all treatments
Read what Lisa has to say about her before and after smile:
"WOW! My dental transformation is amazing and it has given me overall confidence in everything I do, especially my smile! I was so self conscious of my teeth before, I rarely smiled. I insisted my ''before'' full facial photos not be used because I was embarrassed about my smile.
Before, I was careful what I ate because my teeth would be easily damaged and it was only a matter of time before my teeth would wear away to nothing because of misa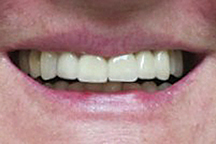 lignment. Dr. Mazoch orchestrated a beautiful transformation for me. She is not only a technical perfectionist, but, an artist as well. I would like to thank all the dental professionals involved in helping me obtain a smile I only dreamed of before.     ~ Patient Lisa
In this issue, we are featuring our Office Manager, Dawn Eby. Dawn grew up in Newark, Delaware and has resided in Middletown for 24 years with her husband, John, a retired State Trooper. Dawn has three grown children:  Stacy, who is married to Jeff Runkle, Adam and Daniel. Dawn enjoys traveling and spending summers by her pool. Photography is her passion; you can check out a few of her works on our office walls.
Dawn began her career in Dentistry as our part-time Financial Coordinator seven years ago. Due to her entrepreneurial spirit (having owned a Day Care, Partylite Gifts and Lia Sophia businesses), she naturally grew into her present position as the supervisor of our office. Dawn goes above and beyond merely running the office. She cheers our team on, implements our charitable works, helps patients understand and finance their treatment, maintains our office in tip top condition, develops new ideas to improve customer service and generally keeps everyone happy. Dawn is the glue that binds our team into a cohesive unit, a dental family. Give us a call and see for yourself.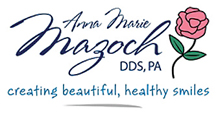 2601 Annand Dr., Suite 18
Wilmington, DE 19808
We are conveniently located near the corner of Kirkwood Hwy and
Milltown Rd, near Pike Creek and Milltown shoppingcenter.
www.drmazoch.com Email:[email protected]
Visit us on facebook Phone: 302-998-9594  Fax: 302-998-8207