Can I? Yes I Can!
|
CAN I: Constant And Neverending Improvement
Why is our team here at Centaur Training so successful?  We constantly achieve success where others have failed and when I say others I am referring to not only local but nationally, well recognized trainers also.  Most of these trainers have had their rejects pass thru our doors over the last 20 years.  To our delight we have been able to reconcile these relationships.
First and foremost I believe the answer to the question is our attitude.  Simply put, we have a No Excuses attitude.  We take Responsibility for every aspect of the training, especially the negative aspects.  We absolutely refuse to be victims, or to allow our people or horses to be victims.  Instead we empower them by defining the responsibilities of each of the parties involved in the training.  That understanding alleviates confusion and frustration between the parties creating empathy which allows teamwork.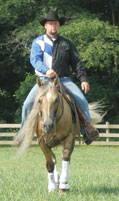 Our success rate at achieving our client's goals is, in reality, a little higher than 98%, compared to other trainers we win hands down.  I have noticed that failures usually include the blame game, blaming of the horse and/or their person for the failure.  Centaur Training also fails, the difference is what happens next!  We change it! How? C.A.N. I.?
Without a doubt, to master the horse one must master one's self.  Self mastery starts with the realization that improvement is desirable.  Self mastery is only achieved by constant improvement.  We just don't try and try again, we improve then we try again.  When success is finally achieved we still strive to improve upon that.  We make sure we never take pride in how we do something.  This allows us to easily modify what we are doing within the construct of the golden rules of equis.  The No Excuses attitude is a lot easier to maintain if you realize that every problem presents an opportunity to improve.
Remind yourself that we learn the most from our mistakes.  Humans really have a hard time accepting that mistakes are always part of improvement.  Mistakes made by the human or the horse provide opportunities for improvement in both.
Remember the "Proof is in the Pudding".
Always accept your horses' feedback and do not accept excuses.
Trust me, you can do this!  I know you can.
Testimonial: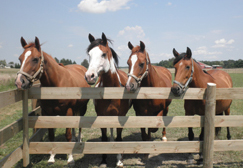 I met Dean Roles during the summer of 2010.  Since then, my life and my horse's life have changed in a positive direction.  I am no longer afraid to ride my once anxious, nervous, confused Tennessee Walker named Tony.  Building a close and solid relationship of trust and understanding with your horse is Dean's foremost goal.  He asked me at our first meeting what I wanted to achieve with my horse.  My reply was that I wanted a safe and more relaxed horse to ride.  Thus began our first month of training.
When I brought Tony to Dean's facility, I thought Tony had good ground manners.  Boy was I in for a surprise.  Dean informed me that Tony was the leader and I clearly was not.  Dean worked with Tony for the first couple of weeks while I observed his techniques with both groundwork and riding skills.  I didn't miss a day of training…..five days a week.  Then it was time for me to get up in the saddle.  I was a nervous wreck with lost confidence and I am sure Tony knew it.  Dean certainly did.  But we worked through my fears with baby steps.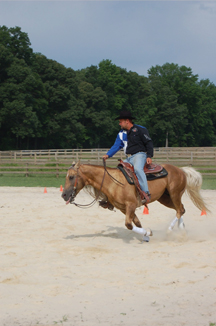 By the end of the next two weeks, I had regained my confidence and could not wait to get Tony back home and ride him in the ring.  What a different horse in just four weeks…..much calmer, less anxiety, and overall just a happier horse.  Winter came and went, as did summer whereby I was unable to ride due to a back injury (non-horse related).  However, this past August, Dean came to our farm and my training resumed through the end of October.  His techniques and ability to finesse a horse with what appears to be little effort is nothing less than amazing.
I cannot describe how happy I am that I chose Dean Roles to be my trainer.  He is a confident leader in the horse arena and is teaching me to be a confident leader with Tony.  If Dean were to ask you what are the two most important things you are in charge of with your horse, you would quickly reply "speed and direction."  Once you have control of those two key elements you will be on your way to a happy and safe riding experience.  Thank you, Dean, for everything you have taught me and for everything you will continue to teach me. ~ Pam Nebel, Harrington, DE
Centaur Training, LLC
A full-service boarding/training facility.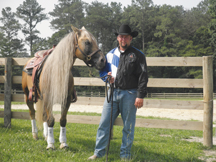 22000 Heritage Farm Rd.
Bridgeville, DE 19933
302-245-5423
[email protected]
www.centaurtrainingllc.com