Buy, Sell, Trade, Design.
|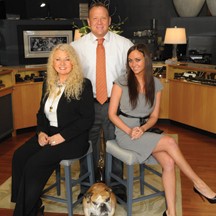 By Nick Dellaquila, General Manager, Jewelry Exchange Of Delaware
As the owner Roberta Kozak's oldest son, Nick has been General Manager of the Jewelry Exchange of Delaware for the past 3 Years.  Together with his younger sister Corey Grabowski, Nick has been working to expand the family business that Roberta started out in 1996. Over the years Roberta's first small shop now has grown into the family business it is today with two locations, one in Historic Lewes and the other in Stately Greenville.
What is this? How does this work? Is this all used Jewelry?… Upon walking in to our store for the first time we hear these questions a lot. As far as Jewelry stores go we take a different approach than most other stores and it may be a little confusing to some people who are only familiar with traditional Jewelry stores, such as the type you would find in a Mall.
Estate Jewelry
Estate Jewelry in itself is a confusing term for those not familiar. Estate Jewelry is broadly defined as second-hand or pre-owned jewelry. The term originated from the practice of Jewelry being sold after the passing of a family member as part of their "Estate" and now encompasses much more. While Estate Sales are still in practice they only make up a small portion of the market. As technology has advanced people have access to many other avenues and in general are able to educate themselves on new topics efficiently. Combined with a down swing in the economy and a precious metal market that has been upwardly volatile there is more Estate jewelry on the market than ever.
Here at the Jewelry Exchange of Delaware we specialize in Estate Jewelry and cater to several aspects of the Estate Jewelry market.
Sell
Having two stores that are stocked with Estate Jewelry from Fine to Costume and everything in between including designer we pride ourselves on having the area's most extensive collection of Estate Jewelry.
Have Jewelry you would like to unload? The best way to describe our buying process is that we give you options. When coming in to one of our stores with items to sell we go through your items one by one and if you are not sure, expertly inform you what you have. We then give you 3 options which are completely at your discretion without any obligation.
Buy
Have an automobile repair or remolding project in need of immediate funds? The first option is for us to buy your items on the spot. This is always your quickest way to get a return on your items.  You leave the same day with funds in hand.
Consign
The second option we offer is for you to Consign your items. If you have the ability to wait, then the Consignment is for you. Consigning your items always gets you the most return. We market your items for you and when they sell you get 60% of the final sale price which is determined by you. We never discount your items without permission and they are yours until you pick them up or they sell. No strings attached and no additional cost to you.
Trade
Many of our clients are simply Jewelry fanatics and like fanatics of anything else they are rarely satiated by their collections.  There is always something new that catches their eye or style that they fall for on a whim. We offer a trade value on all items as well that is always more than our on the spot offer and in some cases equal to what you would get when your items sold on Consignment. This trade credit may be used in full or in partial and can be used on the spot or in the future.
Redesign
One often overlooked area or our process is redesign. Countless times we have clients bring in older or inherited items that they want to sell simply because they are out of style or do not fit them in stature or personal style. More often than not a simple sizing, remount, Rhodium plating (turn Yellow Gold into White Gold) gives an older sentimental piece a modern twist and all at a cost much less than expected. We even take and Gold removed in the process and give you a credit for it.
Testimonials
Bobbie brings a unique sense of style to her one of a kind creations. Her jewelry designs are bold and innovative. -Lisa C., West Chester, PA