Bridal "Sweets" Only At Bare Essentials
|
An upcoming wedding is often the first time a woman feels comfortable,
and fully justified, going on a lingerie-buying binge.
Brides (and bridesmaids) need to figure out "what to wear under there".
BARE ESSENTIALS offers a large selection of bustiers,
strapless bras, and other bra accessories
for just the perfect look under any gown or dress. Wearing a corset or bustier enhances your figure, making you feel and look taller. It forces you to stand erect and pushes up the bust area.
From absolutely smooth styles to undergarments with lace and frills, our sizing and selection cannot be matched, from A to H cup and everything in between. Our bra fit specialists will help you choose the correct size and style that will accent your figure and make you queen for a day. What to wear when your big day turns into your big night?
Some brides prefer the traditional and elegant peignoir set, long or short usually in white, ivory, or pastel shades. BARE ESSENTIALS carries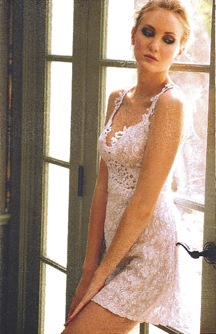 incredibly beautiful designs from Claire Pettibone with fine laces, dreamy fabrics, and romantic details. For the non-traditional gal, a short sassy chemise or a camisole with a flirty boyshort, thong, or bikini panty might do the trick. Our bridal collection from HANKY PANKY, CLASSY BRIDE, and AFFINITAS combine tradition with a fun and modern look that is hot without being over-the-top. Our Hanky Panky "I DO" or "MRS" thong or boyshort makes a great bridal shower gift and takes out the guesswork of size since one Size fits most. BARE ESSENTIALS is your One stop shop for bridal glam. Why should the dress have all the fun?
Brides, bridesmaids, and bridal moms will find bras and comfortable shape-wear
from SPANX, BODYWRAP, or CASS.  Bring the garment you want to wear to the bra fitting. There's no better way to tell the final outcome than by giving it a dress rehearsal in the fitting room.
Bare Essentials offers more than proper sizing. The hottest shape wear
products on the market today are available,
along with recommendations from our fitters on the correct compression and size you will need.
We consider ourselves a type of Body Image Consultant.
Expanding from 850 sq. feet to 2,800 sq. feet is proof that we are
doing something right for women just like you.
Visit our shop and experience dedicated women doing what we love.
Please contact us at 302.477.4888.