Bra Briefs For Busty Women
|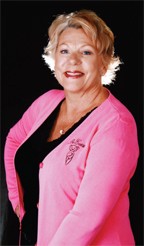 By Debbie Esslinger, Owner
Many women dream of having a larger bust size. They yearn to turn heads while they walk down the street or comfortably fill out a lacy bra or bustier, like the models from "Vickies". Perhaps this is the reason that breast augmentation is one of the most popular cosmetic surgical procedures year after year. But, as any "busty" woman will tell you, having a larger bust has its downsides and can even be painful. What's a woman to do? Let's take a look at some of the more common problems and solutions.
Bouncing
During exercise, breasts do bounce, sometimes a lot. In order to contain the "girls", women resort to wearing multiple bras. Layered sports bras don't give constructive support and they can be uncomfortable. Not to mention all that compression often leads to the dreaded uni-boob.
With today's sports bra collections, there is no reason to double up your bra for support when exercising, even with a larger bust. High-impact sports bras use a unique design to support the breasts (and minimize bouncing) with compression. This allows the bust to look great even at the gym. Brands such as Chantelle, Panache, Freya, Elomi, Wacoal and Anita are worth a serious look. These brands can all be found at Bare Essentials with our sales associates available to help with a personal bra fitting. A good sports bra can reduce bounce up to 80%.
Sagging
Plain and simple, a larger bust is going to sag, sometimes a lot. While many women find this frustrating, remember that there are things you can do.
Support Them
Wearing a bra is one of the best things you can do for breast sagging. What a great reason to go on a bra shopping spree at Bare Essentials. With many styles and sizes available, a personal bra consultation with one of our fitters is an absolute must.
Avoid Weight Fluctuations
Changes in weight (both for the positive or negative) can contribute to sagging. Find your ideal weight and maintain it to minimize sagging. Easier said than done, but it's worth your effort to help avoid the "sagging syndrome".
Wear Sunscreen
Don't let the "girls" spend time in the sun (or tanning bed) unprotected. Sun damage can make the skin thinner, leading to more sagging.
Depending on the bust size, finding bras can be a hassle. Many retailers don't stock the larger sizes, making specialty store shopping with Bare Essentials a must. Specialty stores that focus on bra fitting are the best choice versus department stores or online retailers. Our sales experts understand the differences in brands and breast shapes and will guide you to the correct style and size. Department stores carry limited brands, hardly any sizes and very few, if any, personal fitters to help you choose.
Online retailers may have a bigger selection than department stores, however, you are left trying to figure out which size and style is best for you. Online stores may provide you with "a fitting guide" or video on how to measure yourself. But, without having a legitimate bra fitting with a real person, how can you know you are buying the right size bra? We will provide you with a personal fit consultation and a higher quality bra in sizes that will provide the best support.
Yes, having a larger bust does have some problems, but many of the issues can be remedied with a visit to Bare Essentials for the right bra and a personal approach to the perfect fit.
For more information, please visit our website at www.mybareshop.com or call us at 302-477-4888. Even better, stop in for a personal fitting, we are located at 4009A Concord Pike, in Wilmington, DE.
Bare Essentials Bra Boutique
4009 Concord Pike, Wilmington, De 19803
302-477-4888
Fittings:
Mon-Fri 10-6, Wed 10-7, Sat 9-5, Sun Closed
Visit my website at www.mybareshop.com