Body Contouring: Tummy Tuck & Liposuction
|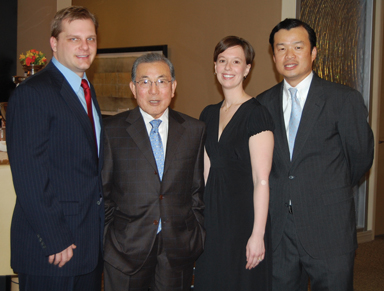 By: Joseph J. Thornton, M.D., Kyo A. Kim, M.D.,
Ellen E. Radziewicz, PA-C,
Lawrence D. Chang, M.D.
Another year has gone by and the holiday season is now over…however, you are now left with the residual effects of the year…pants that are too tight creating the so called "muffin top!"  Unfortunately, nothing you do helps, especially your recent New Year's resolution!
Sometimes isolated pockets of fat can appear on the body that can be extremely difficult to get rid of no matter how hard you exercise or how healthy you eat. Excess fat is often stored in the waist, hip, and thigh areas, and is often stubbornly resistant to strenuous and rigorous diet and exercise routines.
However, there is a solution!
Body contouring procedures including tummy tuck and liposuction can help patients re-contour their bodies and enhance areas that may have proven resistant to traditional methods.  Tummy tuck, medically referred to as abdominoplasty, is a procedure that tightens and flattens the stomach by removing extra fat and skin and redraping the abdominal region for a firmer midsection.   In addition to a tummy tuck some women may also benefit from liposuction to target those unwanted resistant fatty pockets.  Together or alone, these commonly performed procedures can give you a more toned, fit appearance to the stomach and help you get rid of extra fat that does not respond to diet and exercise.  These procedures allow women to look and feel great both in and out of clothes; not only improving their aesthetic appearance, but also self confidence.
Procedure:
During a tummy tuck, the surgeon creates carefully planned incisions around the abdominal area to minimize post-operative scarring. The surgeon then removes the excess skin and fat in addition to tightening the underlying abdominal muscles for a more toned appearance. The incisions are then closed and drains are temporarily inserted at the incision site for proper healing. There is a residual scar located low on the abdomen which can be hidden beneath a bathing suit bottom.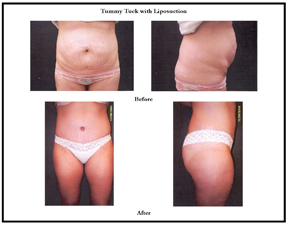 In addition to a tummy tuck, some women may also benefit from liposuction to sculpt the back, hips, thighs, and flanks.  This ultimately contours the body, resulting in a firmer, smoother figure.  During liposuction, tiny incisions target the excess fat deposits.  A sterile liquid solution is infused into the fatty tissue to reduce bleeding and trauma, followed by removal of the fat with an instrument called a "cannula."
Tummy tuck procedures as well as liposuction are performed under general anesthesia and can be performed on an outpatient basis under general anesthesia in two to five hours, however, in some instances, your surgeon may recommend that you stay overnight.
Recovery:
Following surgery, an abdominal binder or compression garment is worn to minimize swelling and support the abdomen as it heals.  These garments are worn throughout the healing process, which can last from days to months.  The final result may be initially obscured by swelling, however, within a week or two, you should be standing tall and feeling confident about your appearance.
Results:
The improved body contour and flatter, firmer abdomen from seen after tummy tuck and liposuction procedures will continue to improve as the swelling subsides secondary to the healing process, with final results apparent in a few months.  Through continued healthy living, with a healthy diet and daily exercise, the new body appearance will be life changing, enhancing your overall self confidence.

Testimonial:
"I would do it over 1,000 times!  It's amazing how something so minor could impact your entire life." ~ A.R.
Advanced Plastic Surgery Center is located at 774 Christiana Road, Suite 101
For more information call (302) 623-4004 or visit www.advancedplasticde.com