Bare Essentials – Where Bra Fashion Gets Personal
|

By  Debbie Esslinger, Owner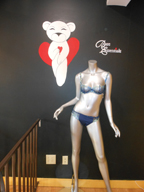 Nothing brightens up a look like a spanking new bra in a hot color!  Look fabulous at any age and get gorgeous for late summer soirees.  If you're not into fashion colored undies, then nude, black or ivory will do just as well.  Looking good doesn't have to be stressful but bra shopping can be overwhelming in large department and mall stores.    If you're searching for the right bra, one that flatters your figure and gives you lift and comfort, visit Bare Essentials and experience a "real bra fitting" from a local shop that has been serving women just like you for over 14 years.
It's so tempting to purchase on line, however, it's the actual bra fitting that means the difference between looking great, good, bad or horrible. Once you have been sized here and have found the right bra(s), it is easy to reorder by giving us a call and letting us handle your future purchase.  We will gladly "special order" any item not in stock at no additional cost to you.
Imagine yourself stepping out for a night on the town, or maybe you need a good everyday bra wardrobe to keep you looking professional and polished for long days at the office.  Whether you are a trendy kind of girl or you prefer a more conservative style, we offer sizes and styles perfect for the life you lead.  It's time to ditch the old, ill fitting bras and let our bra consultants assist you in choosing bras that will fit and flatter your shape.  Your size is never an issue here!
Go to our website, mybareshop.com, to find out more about us and click to see our monthly specials.  Our business is fitting you and caring enough to give you the personal attention you deserve.
Visit my new website at www.mybareshop.com
Bare Essentials     4009 Concord Pike, Wilmington
302 477 4888     Fittings: Mon-Sat 10-6, Wed 10-8