Arthritis Relief is Here!
|
Dr. Nancy Snyderman reported on the NBC Today Show in October that nearly 50 million Americans suffer from arthritis. According to the Center of Disease Control (CDC), this is an increase of about a million people each year. To reduce the need for medicine, you need to increase the strength in your muscles, which then helps to make your bones stronger. Dr. Snyderman also stated that 1/3 of women and 1/4 of men are obese, which is a major cause of joint problems.
Let the Electronic Therapeutic Machines of Lifetime Wellness of Delaware, Inc. help you overcome the pain and discomfort of arthritis disease, which is no longer a problem that affects just the elderly. This facility is equipped with 10 machines, which are divided into two sets. Each session of 50-minutes has you alternating between the sets with the recommendation of exercising at least twice a week.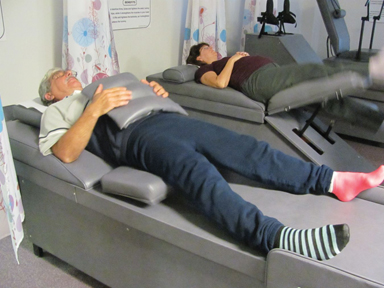 The machines can be used in any order and clients are offered flexibility within the program.
The Sandbag Machine works to strengthen stomach muscles, firming and lifting flabby muscles in the buttocks area. The gentle rhythmic action of the machine is designed to break cellulite and give you a tighter, smoother tone to your skin.
The Waist, Tummy, Hip Machine gently raises and lowers your legs, helping to shed inches from your waist, tummy and hips while strengthening muscles in the lower back. You feel like you are walking while on your back and swimming if you choose to exercise on your stomach.
In each set, there is a Vibrator Machine. This works on complete body toning, gently vibrating body surfaces to soothe and relax you by increasing blood circulation to surface skin cells. An additional asset of this machine is the ability to help your body shed itself of toxins.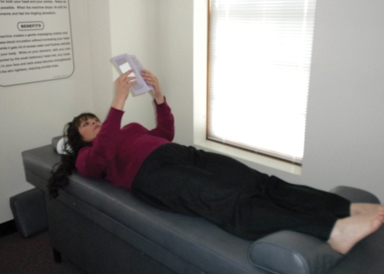 Many people don't believe that you can actually lose inches by letting the machines do the work for you, so as an incentive to try this type of exercise your first session is FREE. The owners are convinced that once you try this low key exercise program that you will want to sign on for the 26-session program. As an added bonus, they offer various ways for clients to earn additional free sessions. You are encouraged to make your appointment today for your free trial.
Testimonial:
"I can't tell you how glad I am that you opened Lifetime Wellness. This is what I've Been looking for. As a senior citizen, vigorous exercise is not my thing. I tried a few years ago and ended up with a painful ankle problem that took a year to heal. Lifetime Wellness on the other hand, is relaxing-at the same time giving your body a thorough workout. I feel better, my posture has improved and best of all, the bursitis in my left leg is 95% better. I can sleep on that side for the first time in years!  I wish everyone could try this out. I look forward to continuing improvements and better health in the future."
~With Sincere Thanks, Nancy M.
"Because of Lifetime Wellness, I've increased my muscle strength to the extent I do not need a knee replacement at this time; just a repair of the damage which is a very good thing-much less down time. My doctors were amazed at how well I'm walking, as opposed to two years ago, even with all the damage. I am proof that this exercise regime works"
~Barbara
With no obligation on your part, you are invited to try their Motorized Therapeutic Exercise Machines.  Your first treatment is absolutely FREE!! Just visit the facility at 1012 State College Rd, Ste 103 in Dover, DE. 19904.  Should you wish to contact Lifetime Wellness of Delaware, Inc the telephone number is 302-735-5626.  You may also visit their web site at www.lifetimewellnessofde.com
Bob and Judy Ballis received their Certificate of Merit to operate their business after completing a training course presented by the inventor of the exercise machines.  They also have been certified in CPR/Basic First Aid.  They offer networking opportunities at their facility and participate in community projects. Currently they are accepting donations for The Kent County Community School.  Lifetime Wellness allows groups to exercise together such as "girls night out".  Give them a call today to make your appointment.
Lifetime Wellness of Delaware, Inc
1012 State College Road, Suite 103 in Dover, Delaware
302 735 5626
www.lifetimewellnessofde.com