Are You Ready For Summer?
|

Amy Marta, owner of Clutter Bugs, LLC
with her inspiration, daughter Gabriella.
Photo by lifeartimaging.com
Garage embarrassing, cars won't fit?
Cabinets overflowing, junk drawers everywhere you look?
Let's get you ready for a new year. Amy Marta owner of Clutter Bugs LLC and her associates can help you take the ouch out of organizing!
Feeling overwhelmed, just want to close the door on your "dirty little secret"? You are not alone.
So many people just can't get organized. It's not because they are lazy or unable, it is simply not knowing how to be. Someone's home and/or workspace can tell you so much about them. Organizing is a process, not a one day project. These are words to live by or so Amy believes.
More often than not, things don't get put away because they don't have a home. The key to getting organized is to find the best possible home for all your things. Making your space functional is not always the easiest job.
That is where she comes in. Amy has found a way to help her clients lose the overwhelming feelings and get to work. As a mother of two, Amy knew clutter and had to make organizing a way of life. Inspired by her first child Gabriella, Clutter Bugs LLC was born in 2005. Wanting to do something she loved creating her own business was the way to go.
From moving to collecting and just plain old inheriting other people's things
there is just not always enough space.
So that's when cluttering become an issue. Once it starts to pile up we can't always get a handle on it, and that's when you need to…
remember some key rules:
•    Have you used this item in the last 12 months?
•    When you buy something new, get rid of something old
•    Resist the urge to buy sale items unless you really need them
•    Making piles are just organized messes
•    Give your rooms and space a purpose
•    When in doubt throw it out!
There are many resources for reusing and recycling items that you no longer need.
Just because it has no home with you doesn't mean it doesn't have one somewhere else. From donating to charitable organizations and selling your items either in second hand shops or having your own sale can really lighten your load, and put a little extra in your pocket.
People spend time, money and effort landscaping the outside of their homes but neglect the inside. Landscaping isn't just for the outside of your home anymore, we need to show the same TLC to the inside too!
Give the gift of organization…
It makes wonderful birthday gifts and unique wedding gifts.
E-mail [email protected] or call 302-438-8137. Gift certificates can be bought and sent directly to the recipient from Clutter Bugs, LLC.

"Organizing Everyday Life"
Testimonials: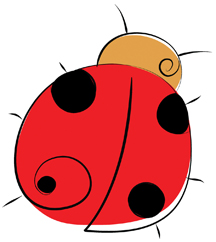 "As an organized person by nature, I was REALLY struggling after the birth of my second child when I couldn't keep my kitchen organized. Amy came into my house, and within minutes had all my solutions. She redid all the kitchen cabinets in a more space saving way, allowing more room for the extra bottles and gadgets that come with a newborn. She found inches, square footage, counter space I never knew existed. She transformed what I thought was an already organized kitchen! She has a skill that goes beyond being organized. It was the best small money we spent."     ~Susan H., Wilmington, DE
I saw the Ad for ClutterBugs and called Amy and I am sure glad I did. She came out, we discussed our needs, she gave us an estimate, we scheduled the work and when she arrived we finished the kitchen in 6 hours!! With Amy, you work as a team –she pitched in and helped sort and clean. She took items that I did not want with her and by the end of the day it looked like a different kitchen! It has been about 2 months and surprisingly everything in the kitchen is still organized and has a "home".     ~Stephanie H., Landenberg, Pa

I was so happy with the results that I used Amy again for my office and I have scheduled her to help me with the Basement. Amy is friendly, caring, and fun, and importantly, she listens to your needs. I have recommended her to my friends!"     ~Stephanie H., Landenberg, Pa
"I am so happy with the result of my "de-cluttering" session with Amy. She came over to help organize my kitchen. I felt that things were arranged awkwardly, and I was at a true lack for counter space. She spent many hours with me arranging all of my cabinets and drawers. It was so helpful to have someone help me part with the things I was not using anymore. I was shocked at how many bags of garbage left my kitchen! It was especially nice that Amy took it all with her to be recycled! Amy's follow-up and professionalism is terrific too. She's been helping me find an organizer for all of my loose papers that accumulate in my kitchen. We've been able to keep up with our new and improved kitchen. Now I'm just thinking what the next project will be…."      ~Amy H., Wilmington, De