Are Those Eyelashes Really Yours?
|
Yes… I paid for them! And what is wrong with that?
Most of us were just not born with naturally long eyelashes.  Or we were and as we have aged our lashes are taking a tumble on us.  Well, like most things these days, we can fix that.  Re-gain the lashes of your youth.  Perk up tired eyes.  Save time on your morning routine.  All are great benefits found with Semi-Permanent Individual Eyelash Extensions.
Eyelash extensions have gained tremendous popularity
in the last few years because of their natural look,
ease of application, and affordability – unlike false eyelashes, which are applied to the eyelid with a thick adhesive, and still appear 'fake'.  With semi-permanent eyelash extensions, eyelashes are made thicker and longer through professional application of a synthetic eyelash that is curved to replicate a natural lash.  Extensions are applied one lash at a time with care and precision using special bonding agents for a completely natural look! The result is thicker, longer eyelashes that are safe in the shower, while swimming, sleeping or exercising.
Your extensions can last up to 5 weeks depending on
the life cycle of your own natural lash.
Other factors, such as your eyelash characteristics, lifestyle and care of your extensions will also affect the longevity of the extensions. A full set of lashes requires a relaxing 75 to 90 minute session. Demi-sets require 60 to 75 minutes. Or you can opt for a quick 30 minute Wink Set.  The strong hold adhesive used will give you a long-lasting enhancement without damaging your own lashes. As your natural lash grows, your extension grows with it!  As your natural lash turns over, a new extension is applied to keep your lavish look fresh.  These one hour Refining Applications are recommended every 2 to 4 weeks. Timeframes can vary person to person depending on your custom wants and needs.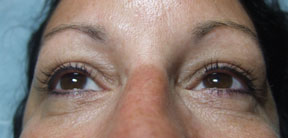 It is important to make sure the technician has a
professional license in Esthetics or Cosmetology,
that they have been professionally trained by a reputable company and that they are using quality adhesives and lashes.  Your technician should also have an artistic flair when applying your lashes.  Extensions vary in length, width and curl.  The right combination of these is needed to achieve your custom look.  A safe and clean environment, experience and attention to detail are important when selecting a lash extensionist.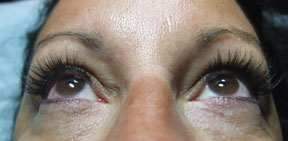 At Lasting Looks, our licensed
Eyelash Extension Specialists
will work with you to provide your desired look-
a soft, natural enhancement or an extreme, glamorous statement! Women everywhere are catching on to the convenience and style and becoming lash addicted!
Who would benefit from eyelash extensions?
– Busy Moms, as a great time-saver
– The Vogue Teen, for her prom and graduation
– The Business Professional, for a polished image
– The Blushing Bride and bridal party, for a joyful celebration
– The Mature Retiree, to bring back the lashes of her youth
– The 20-Something, for a glamorous night on the town
– The Fitness Enthusiast, for looking great while working hard
– The Natural Blond, for dark, dramatic lashes.
Whether you are looking for a time-saving, everyday look, lashes for your wedding day, or just a weekend away, Lasting Looks has the professional, perfected technique, applied by a licensed, certified and experienced Eyelash Extension Specialist.
Safe and affordable, trust your eyes to Lasting Looks!
www.LastingLooksForYou.com
or call Melisa at 302-463-8871
Wink Set – $10 off through 9/30
The Lasting Looks mission starts with the desire to empower women to take charge of their appearance and to put their best image forward.  Opening in 2006 as a permanent cosmetic studio, Lasting Looks quickly saw the need for other time-saving and cost effective options.  Eyelash Extensions and quality skincare were soon added.  With great success, Lasting Looks has moved to the shops at Hockessin Corners and is a complete Day Spa offering spa facial treatments, chemical peels, Nufree face and body hair removal, lash and brow tinting, slimming detox body wraps and massage.  Visit our website for details and information on all our services:  www.lastinglooksforyou.com.